---
As the Covid-19 pandemic continues to rapidly spread in the United States and beyond, communities are rallying – and looking to provide meaningful assistance to those most vulnerable. As social distancing becomes a key in our collective response to the pandemic, providing care to those in need becomes our collective priority. For those needing extra support right now or wanting to champion community support in your own community, know that Give InKind is here to help you.
There are many different ways you can set up a Give InKind page, for use in supporting both individuals and also groups during this pandemic. We're sharing the different ways you can use Give InKind during this time. Should you need help, please reach out to us at [email protected]. We are a part of your team.
1. Emergency Department: Supporting a medical staff while they're on shift (which also helps local restaurants).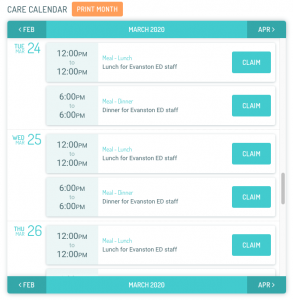 Find out how many people are working during shifts and include that in the About section
Add needed meal delivery timeslots for people to claim. 
People claim and call local restaurants for delivery or pick-up and drop-off
Ideal for emergency rooms, hospital staff, and other first responder shifts.
BONUS POINTS: Send a Give InKind Gift Box by clicking the pink button on the page and we'll put together a curated gift box with a hand-written card to help lift their spirits and let them know how much they are appreciated.
A small gesture of delivering food can go such a long way for medical staff who are tirelessly working to keep us all healthy at home. Create a care calendar where people can claim a meal time slot to have restaurants deliver meals or pick up the meal to deliver themselves. This not only is a simple way to keep local Emergency Department staff fed, but also helps keep local restaurants afloat. Make sure to include special instructions about drop-off as most people are not allowed to go inside unless they are being treated.
2. Neighborhood Coordinator: A person or group collects needs from the community and sets up a calendar for volunteers to sign up.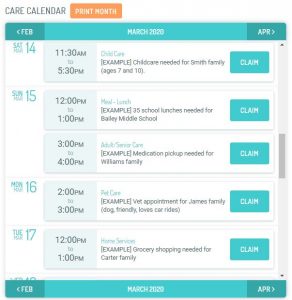 Organizers collect needs and place them on the calendar

Volunteers sign up to help with needed tasks or delivery items

Collect monetary donations via PayPal or GoFundMe


Add Amazon, Target, grocery, gas and other gift cards to Wishlist

Ideal for neighborhoods, churches, and those living near seniors
This type of page is ideal in enabling people to come together as neighbors and help members of their community who are unable or are too vulnerable to leave their homes. Have a central point of contact who will collect requests and help find neighbors to assist them – whether that's running an errand, picking up medication, groceries, taking an animal to the vet, childcare, etc. These are unusual times and it is ok to ask for help. There are many people looking for ways to help.
3. Individual Recipient: Supporting an individual or family through quarantine or social distancing.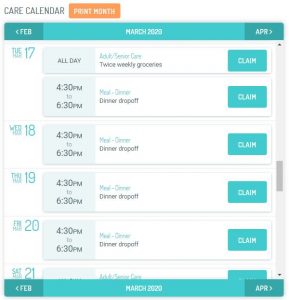 Set up a Give InKind page for yourself or someone else

Add needed meal and grocery deliveries, errands, check-ins, phone calls, prayers, or other needed items to your calendar, for friends or neighbors to claim.

Add Amazon, Instacart, GrubHub, and other gift cards to Wishlist

Ideal for seniors, at-risk persons, families with new babies, first responders, and anyone who could use help staying home.
Are you and your extended family members rallying around your grandparent or great-grandparent? Helping a family to stay home, or supporting a first responder? Create a care calendar where people can send necessary items and schedule calls or Facetime sessions. Help make sure that pharmacy deliveries are prompt, and groceries are stocked. Provide backup childcare to our healthcare workers that are working double-time, and help feed them as well.
4. Community Grocery Delivery: Collect food donations and gift cards for assembling and redistributing to the community.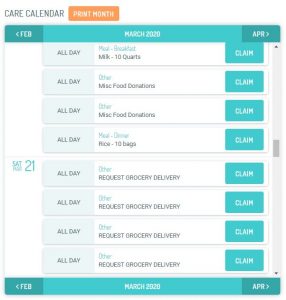 Add needed food donations to calendar for donors to claim

Collect monetary donations via PayPal or GoFundMe

Add Amazon, Target, grocery, gas and other gift cards to Wishlist

I

deal for use by groups, schools, non-profits, or community centers. 
This page coordinates grocery or other types of deliveries to those in need, whether because of social distancing or loss of income. Have volunteers claim an item they can bring or have delivered to the centralized address and drop it off by that day/time. Groceries will be re-boxed and distributed to households in the community. These pages are perfect for neighborhood groups and other local organizations that want to keep a regular, but manageable, number of donations flowing through the community.
This is a new and trying time for all of us, but it is truly the strength of our communities that will be our shining light. Please reach out if we can help you, help someone else.
---
Give InKind does not provide medical advice, diagnosis, or treatment. We have an affiliate relationship with many of the advertisers on our site, and may receive a commission from any products purchased from links in this article. See Terms & Conditions.