---
So you're building an InKind page; life has thrown you into a big situation, and people want to help.
The situation itself can be overwhelming, let alone the well-meaning barrage of support that comes along with it.
In this article, we'll show you how to use the Give InKind Privacy Preferences to quickly convey how much or little contact you desire, and how to make sure your page is displayed to exactly whom you choose.
These preferences are first set when you create your page, and can be changed at any time in the InKind Page Settings as your needs evolve.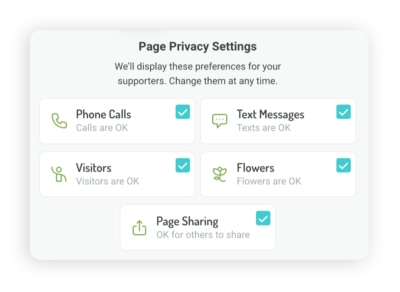 The first set of options are displayed on your InKind Page to show Supporters what types of contact you are accepting.
Phone Calls: Loved ones may want to reach out during this time, and you may or may not be up for taking those calls. Softly, yet efficiently, indicate when you are ready to talk, and when you would like some peaceful quiet.
If you choose not to receive phone calls, you will also have the option to provide an alternate phone number of someone taking calls on your behalf.
Text Messages: Not up for talking, but still up for contact? Welcome text messages with this option.
Visitors: Supporters may want to come sit, and spend time socializing. Allow this setting to either invite visitors, or request space for you.
Flowers: Gifting potted plants and bouquets is a popular way to show love and support during life's important moments. Whether you have allergies, mischievous pets, or any other reason to request no flowers, you can do so here.
The next set of Preferences control your InKind Page's visibility.
Page Sharing: If you determine that it's ok for others to share your page, enable this setting to display a "SHARE" button near the top of your InKind page. Clicking the "SHARE" button will allow anyone to share your page on social media, through email, text, or a direct link in just a few clicks.
OK to feature page: We sometimes feature pages on our website or social media. Your stories inspire us, and if it's ok with you, we would like to share and inspire others. We won't be upset if you choose to turn this option off; we value your privacy.
Include in Search: When this feature is enabled, your page will also appear on search sites like Google and Bing, in addition to Give InKind. Use this option to make it easier for people to find and support your page. When this feature is disabled, the only way to access your InKind page is through a direct link. This leaves it up to you to share your page's link with whomever you want to see it.
Whenever you make future changes to your preferences, don't forget to click the "SAVE" button at the bottom of the Page Settings. Feel free to change it up as often as your needs evolve.
We want to make sure you have the power to amplify your message as much as possible, to keep your situation as private as you wish, and to efficiently show your supporters exactly how they can give you the best care.
Did you come to learn about our privacy offerings before creating a page? Go ahead and start or continue creating your InKind Page here!
---
Give InKind does not provide medical advice, diagnosis, or treatment. We have an affiliate relationship with many of the advertisers on our site, and may receive a commission from any products purchased from links in this article. See Terms & Conditions.