---
Give InKind's Care Calendar helps answer the central question of how to give or receive support. In this case, how to set up a support page for yourself, a friend, or family member who has a newborn in the time of COVID.
Getting Started
Begin by identifying a close friend or family member who is able to sit down with both parents to understand schedules, food preferences, and anything else that may make their situation easier (see a sample Give InKind Support Page for a New Baby During COVID-19 here).
Care Calendar
For parents of a newborn, keeping them quarantined and germ-free (as much as possible) will give them peace of mind. Add as many items to the Care Calendar as needed to help them focus more on baby and less on the weight of the world.
Food:  Meals and groceries for the family are always among the most popular calendar items. Do the parents have any dietary restrictions? Is anyone allergic to anything? Do they prefer home-cooked, takeout, and/or frozen meals?
Childcare:  If there are older children to consider, you can easily build that into the Care Calendar. A quarantine situation can be hard, but consider a no-touch stroller date with big brother or sister or an online game night if they're a bit older.
Pet Care: Are there pets to care for? Arrange daily dog walks, or offer to take them to/from doggy daycare for a little daycation.
Home Services: Add calendar events for tasks like a housecleaning while they're at the pediatrician for a check-up or schedule a weekly laundry wash and fold session. Depending on the comfort level, you can either pick up their laundry or do it in their home while social distancing.
Other: "Other" is the ultimate catch-all category. This is a great way to create opportunities for connection that can help normalize the situation during a pandemic. Designate an evening to a Ladies Night video call for mom, a recurring day for Friends and Family video call to help set expectations for visiting, and bonus points for weekly diaper runs from friends and family.
Fundraising
The fundraising section can be beneficial for unexpected hospital expenses, but also accommodates the supporters who prefer to make financial contributions. If there is such a need, simply enable the fundraising button on your Give InKind page and connect your PayPal or GoFundMe account.
Wishlist
The Give InKind Wishlist is another opportunity for others to meaningfully support a quarantined family with new baby. Browse Give InKind's curated list for suggested items. When you see an item that could be helpful, use the "+" icon to add to your Wishlist.
You may also add an existing Amazon Wishlist to your Give InKind page for items that may be leftover from their registry.
Communication Preferences
Use Give InKind's do-not-disturb section to let others know about the family's communication preferences. Keep in mind that these preferences can be easily turned on or off as a situation changes.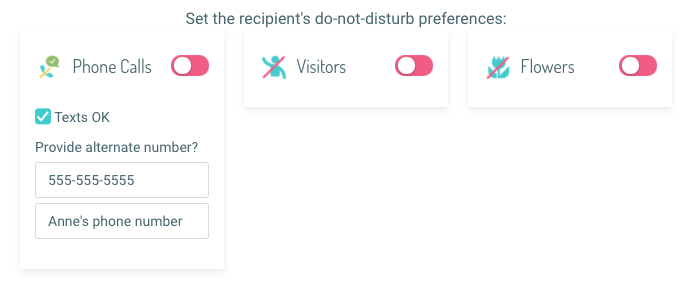 Phone Calls: How do the parents like to communicate – phone call or text? With a new baby, it can be impossible to know when baby is sleeping and if a parent is available to answer the phone.
Visitors: In-home visitors are not likely during these unprecedented times. If not, turn off the Visitors icon and use the Special Notes section to add other details as to what to do instead.
Flowers: Flowers can be great to brighten up a home, especially during quarantine, but always best to ask.
Updates
We know that with a newborn, they're changing every day. Add as many updates as you or the parents like to keep friends and family up to date with how everyone is doing and adjusting to life with baby.
Being able to clearly express what is most helpful for the parents and being able to follow through on that support is a gift, both to the giver and to the receiver. Rally your virtual village to help give new parents peace of mind as they learn how to raise a child in the midst of a pandemic. Create your Give InKind Support Page here.
If you have any further questions, visit Give InKind's Help Center or view our helpful articles about new babies or other Coronavirus content.
---
Give InKind does not provide medical advice, diagnosis, or treatment. We have an affiliate relationship with many of the advertisers on our site, and may receive a commission from any products purchased from links in this article. See Terms & Conditions.