---
Setting up a food train is one of the best ways to help support someone you love. But meal trains can include more than just homecooked meals or take out/delivery. By learning how to give groceries as a gift, you can help those who are experiencing a new life event where they are unable to go to the store themselves.
What do you need to keep in mind if you're giving groceries as a gift? Here are some tips.
Take a Look at Delivery Apps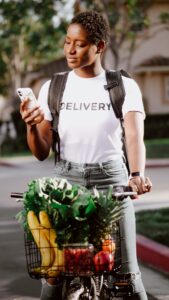 One of the biggest struggles people have in buying food for others is they're not sure what's needed. Your family might eat a lot of bread, but perhaps someone else is on a low-carb diet or watching their gluten intake.
One of the best ways to give a gift of food is to use an app like Instacart. The person who needs help can select exactly what they need, and your funds goes toward the cost. Instacart offers gift cards that allow you to contribute a specific amount to a friend, family member, or neighbor. From there, your recipient selects their favorite groceries and has it delivered.
Using a delivery app is a great way to help someone without having to know their every specific need.
Offer to Shop a Grocery List
Perhaps your friend or relative only needs a few specific items, or they have created a list of what they want for the week. If that's the case, you can get a list from them and include your items in your regular shopping trip.
They might decide to email the list or you might be able to pick up the list in person. Either way, with a list you don't have to be concerned about grabbing the wrong thing at the store.
Simply picking up a few things for a loved one can be a huge help. Perhaps your friends with a new baby need a couple of items because they can't leave the house, or your elderly neighbor could use some shopping assistance. By working it in with your own shopping, you can save time while making a difference.
Gift Commonly Used Staples
Perhaps you want your grocery gift to be a surprise, or you're shopping for someone you don't know well. Don't worry; you can give them commonly used foods and staples! This type of assistance can be a huge relief for anyone from a family with a new baby to an elderly, at-risk person who can't get out much.
If you know they don't have allergies, fill your cart with bread, cheese, chicken, and even quick fixes like frozen pizza or cake mixes. These types of simple ingredients and meals will go a long way both in the number of meals it will serve and gratitude. If all else fails, give foods and ingredients that you would enjoy receiving.
How to Give Groceries as a Gift With Others
When you work together with others your efforts are multiplied many times over. Using simple online tools like the Give InKind Care Calendar, your group can coordinate meals for a new mom, an elderly neighbor, a friend who just lost a loved one, and so much more.
Whatever the need, having a calendar will keep everyone on the same page. People can sign up to deliver on specific days, and you'll ensure that they aren't overlapping. Instead, your recipient receives what they need when they need it.
What should you deliver? If you're using a Give InKind page, you can use the Calendar description or Special Notes section to add a grocery list and/or food preferences.  This is a great place to note the recipient's favorite meals or staples they use regularly. All of these options give your group of supporters a clear idea of how to make the most significant impact with the gift of groceries.
Give InKind makes a group effort more efficient and effective. No need to email each other or constantly call – everything is in one place.
Small Acts of Kindness Make a Big Difference
When someone is experiencing a tragic loss or big life event, it might feel like there's not much you can do to make a difference, but that's far from true. When you know how to give groceries as a gift, you're able to make a massive difference for those who need it most. You can multiply the effect by working with a group using an online calendar to coordinate delivery days and times.
If you're ready to get your grocery-giving group together, create a Give InKind support page today. You can add an unlimited number of Care Calendar events. They're easy to manage and will automatically send email reminders to supporters who claim them.
---
Give InKind does not provide medical advice, diagnosis, or treatment. We have an affiliate relationship with many of the advertisers on our site, and may receive a commission from any products purchased from links in this article. See Terms & Conditions.