---
Give InKind's Care Calendar helps answer the central question of "How can I help?". In this case, how to set up a support page for a teacher. You can use this for community support or strictly make it available to parents and guardians of the students. 
Getting Started
We recommend designating the class parent(s) who can communicate directly with the teacher to understand specific schedules, classroom or student needs, and any tangible items they may need to make the back-to-school situation easier and safer. Then break it down piece by piece to create your Give InKind page (see a sample Give InKind Teacher Support Page here). Don't forget to include important links in the Story or Special Notes sections for websites like your class's Donors Choose page.
Wishlist
The Give InKind Wishlist is an opportunity for others to meaningfully support the teacher and the class's specific needs. See Give InKind's curated lists for suggested items for a socially distanced classroom that could help during another unique school year. When you see an item that could be helpful, use the "+" icon to add to your Wishlist.
You may also add an existing Amazon Wishlist to your Give InKind page. This could be especially helpful for teachers to communicate their specific needs. You can see a few examples of what to include:
Care Calendar
For teachers who are navigating what it is to be an educator as we navigate back to school in the challenges of COVID today, consider specific actionable items that will provide support to both the teachers and, in turn, the students. We know that a teacher wears many hats, so any additional support is surely welcomed. You can add as many items on the Care Calendar as you need to achieve this.
Classroom Announcements can be created for important days to remind families and students.
Food:

Use this option to help provide class snacks or supplementary food that might be helpful to families missing in-school meals. Parents or community supporters can claim these items and deliver them in bulk to be distributed as needed. Food allergies should be taken into consideration and communicated appropriately.

Class Pet Care:

Classroom pet care is a great use of this category. Have parents claim a week to care for the class pet.

Other:

"Other" is the ultimate catch-all category. Does the teacher need assistance coordinate weekly assignment packet assemblies, is there in-class projects coming up that may require some extra hands, birthday celebrations and holiday celebrations can be scheduled here as well!
Fundraising
Does the PTA or school have a fundraising account to help with school projects? Simply enable the fundraising button on your Give InKind page and connect a PayPal or GoFundMe account. If applicable, use the special notes section to leave instructions on how to make sure the funds are allocated to a specific class.
Communication Preferences
Use Give InKind's do-not-disturb section to let others know about the teacher's or Classroom Parent's communication preferences. Keep in mind that these preferences can be easily turned on or off as a situation changes.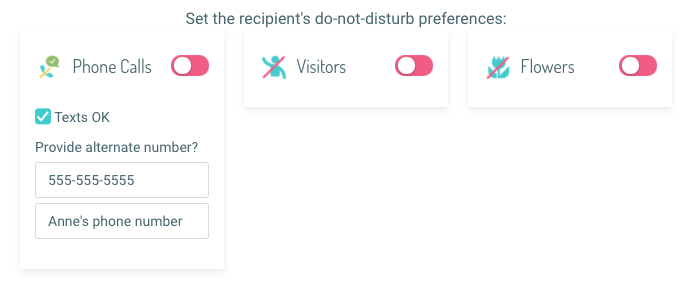 Phone Calls

: How does the classroom parent like to communicate? Phone call? Text? Or is it best to turn this off completely? 

Will parents be accessing the classroom this year for conferences or will they be held virtually?
Updates
Add unlimited updates to keep parents or community members informed. Use the Updates to post student high-level highlights about class students, immediate class needs, or upcoming events.

Clearly expressing what is most helpful and being able to follow through on that support is a gift, both to the teacher, their students, the parents, and the community. Create your Give InKind Teacher Support Page here.
If you have any further questions, visit Give InKind's Help Center or view other helpful articles.
---
Give InKind does not provide medical advice, diagnosis, or treatment. We have an affiliate relationship with many of the advertisers on our site, and may receive a commission from any products purchased from links in this article. See Terms & Conditions.