---
The pandemic has upended the ways we typically support expecting and new parents. Clinics and hospitals are restricting visitors for appointments and delivery, moving some appointments to virtual appointments, and even having some appointments as drive-bys where the doctor comes to your car to check mom and baby's vitals. Baby showers have been canceled. And new parents feel isolated once they get home, as visitors and in-home support is discouraged due to social distancing.
And, yet, there are still ways we can help support expecting and new parents.
In late 2019, Katherine Goldstein wrote an article for the Washington Post about re-inventing the traditional baby shower to better support modern moms. 
"New parents need child-care help, meals and groceries, therapy, and social support. And these feelings have recently solidified for me as I await the arrival of twins in February. What is increasingly clear this time around is that I don't need fancy stuff. I need help."
It turns out that her suggestions for updating the traditional baby shower are also applicable when the world shuts down during a pandemic. And, Give InKind is uniquely designed to support new parents during times like these.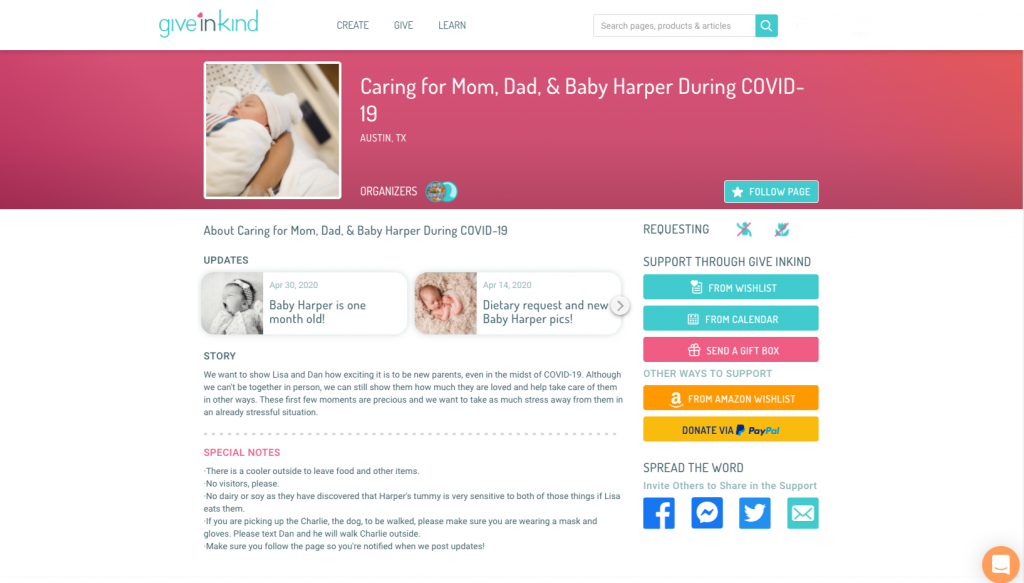 Creating a Give InKind page for expecting parents is an incredible gift that will support them through preparing for their baby and caring for them postpartum. You can create the page as part of a virtual or drive-by baby shower, then guests can shower the parents through: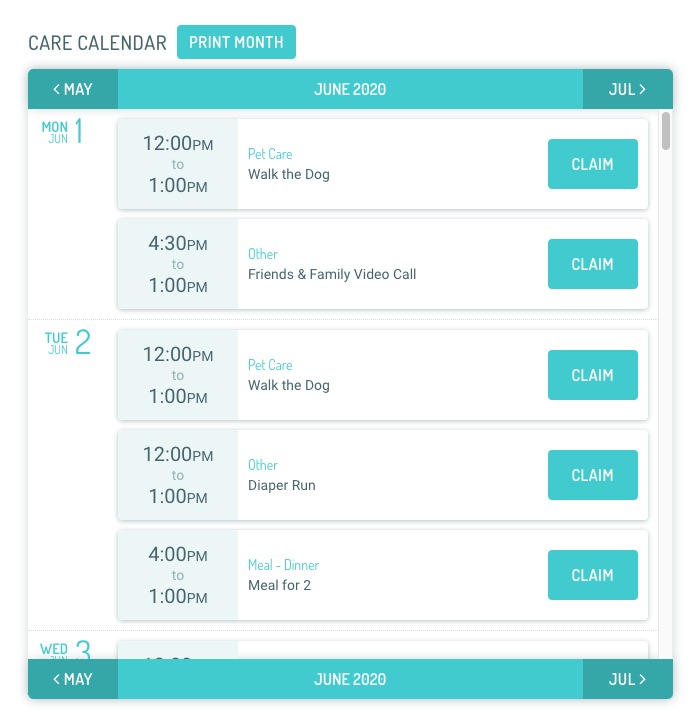 Purchasing from their Amazon Baby Registry

Purchasing from their Give InKind Wishlist

Claiming meal delivery on their care calendar

Claiming childcare or pet care on their calendar

Claiming grocery or diaper runs
You can even schedule girls nights or family video calls for family and friends to claim to help the new parents feel less isolated.
Then, once baby arrives, you can post updates right through the page, with photos and video, to be sent to those who are supporting the family. This keeps them updated on the family's needs and wishes as they get settled during this time of social distancing.
Healthcare providers are concerned about the mental health of new parents during the pandemic, so creating a village of support around new parents is even more vital now when they have less access to social support. Let Give InKind help.
---
Give InKind does not provide medical advice, diagnosis, or treatment. We have an affiliate relationship with many of the advertisers on our site, and may receive a commission from any products purchased from links in this article. See Terms & Conditions.