---
While most startups begin with a dream, a crazy idea, or kids in their college dorm rooms, Seattle woman, Laura Malcolm found herself unexpectedly creating a startup after the devastating stillbirth of her first child Layla.
"When you're expecting a baby," Laura says, "you're excited. Your family and friends are excited. Baby showers are thrown, nurseries are prepared, car seats are installed in the car. But when that child is stillborn, or doesn't get to come home from the hospital, it changes everything. Your whole world is turned upside down. You never see it coming, and you will never be the same. For those who have been through it, you know how important it is to have support. Emotional support is one important aspect, but physical and tangible support is critical, too; you've just given birth and you're also deep in grief. It's really difficult to manage."
"During a family crisis, if you're lucky enough to have support, of course you're grateful, but it can actually create a lot of extra work to coordinate that support," says Laura. "Someone has to figure out what kind of food you want, when you need meals, when your dog needs walking, when you need a day off, when the mail needs to be picked up. After my husband James and I lost our daughter Layla, our friends and family around the country desperately wanted to help – but there was no easy way to communicate with them about our needs and help organize that support, especially when we weren't all in one place. That's when I knew there had to be a better way, and that's when the idea for Give InKind was born."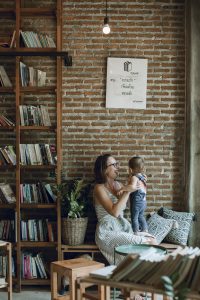 How did you go from idea to action?
I have spent over 10 years in technology, so after seeing all of the work our loved ones were going through to support us, I immediately started mapping out Give InKind in a notebook. It's how I channeled my grief–designing the ultimate, support-from-anywhere solution. It took another few years (and the birth of our healthy son a year later) to actually start building Give InKind. In 2016, we hired a development team in Thailand, packed up our one year old boy, and went to work with our developers to bring Give InKind to life.
What were some of the critical steps in building Give InKind? Milestones?
One of the things we wanted most with Give InKind was to alleviate the extra work from those that wanted to help, because by doing that, you do remove emotional burden from the person needing help. In order to do that, we needed to provide options for lending a hand from anywhere. We started with building out a marketplace of commonly needed products and services, like gift cards for Instacart or Uber. We also wanted to make sure that all of the options for support were there, so we we added integrations for PayPal and GoFundMe donations, and Amazon wishlists. Really, we wanted to be sure that whatever kind of support someone needs, and whatever kind of support someone likes to give, those were both reflected on the platform. Once we created a tool that people could use to share their story and the ways they need help, and share it with their friends and family around the country, we knew it was ready to share. We listened to our users feedback for over two years in our beta before officially coming to market. Once we released our full version in January of 2019, we've seen tremendous growth, with tens of thousands of people using Give InKind to give and get support every month.
What gives you the most hope that this platform is going to succeed?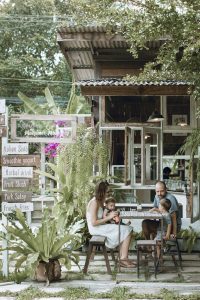 Seeing both the impacts on individuals, families and communities on a daily basis confirms for me that we built something really, really special. Creating this ability to give real, tangible help, from anywhere, is a complete shift away from just focusing on crowdfunding, or sending flowers. By creating a place where families with real needs, because they have a sick child, or a parent undergoing cancer treatment or surgery recovery, or have lost a loved one, can share those ways that people can help them without saying "let me know what I can do!" is game-changing. But it's also seeing the growth of the platform and users every month that tells me it's going to succeed beyond my wildest hopes. Every month, more pages are made, more people show up to support, and more people come back to create a page for someone they know.
What would you say out there to women thinking of creating a company?
There is a tremendous amount of support out there for female founders if you can find your way to it – reach out and ask! Find the resources (like the Female Founders Alliance or other great Facebook groups), and dive in. Find a mentor, ask for support. Starting a company as a woman comes with additional challenges, and those challenges are even greater for other minority groups. It can be a very lonely road and support is critical. But women are starting businesses at 2x the rate of average businesses and I believe that with enough of us driving this change, the board room tables are going to turn.
---
Give InKind does not provide medical advice, diagnosis, or treatment. We have an affiliate relationship with many of the advertisers on our site, and may receive a commission from any products purchased from links in this article. See Terms & Conditions.