---
Inspiring Breast Cancer Journey
When users come to Give InKind to create their pages for themselves or a loved one, it's usually at a moment in life that becomes – before and after. Life changes in an instant, and for nearly 30 percent of people who create a page, it's because cancer has now become their battle.
One courageous woman has been sharing her detailed journey with breast cancer with her village of family and friends through Give InKind. Her poised and purposeful video blogs posted at each turn has not only kept her large following informed about her progress – but has allowed her friends to know that although she is in the battle of her life, her humor, appreciation for support, and focus on educating people about the realities of cancer is always in the forefront of each post. 
She invites you on her journey and shares her experience of how Give InKind is enabling her to find tangible support through this journey. She recently had a double mastectomy and continues to journey through appointments, treatments and healing. She is an inspiring woman we hope you get to know here.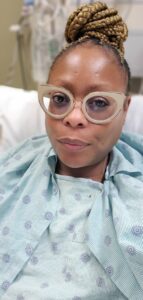 Thanks to Shannon for showing us all her grace and spirit as she continues her breast cancer journey.
In her own words…
How Give InKind helped me in my journey 
When I first received my diagnosis for invasive lobular carcinoma in December, everything moved VERY fast. I barely had time to think straight between trying to attend all my appointments and still continue with my day to day responsibilities. After discussing with a really good friend, I realized once the news got out about my diagnosis, there was no way I could manage all the phone calls, texts and general inquiries of support. I prayed about it and started assembling my "Victory Team" to help get through this journey. Being an active member of one of the largest Sororities in the world, once one sister hurts, we all hurt so the support from all can become overwhelming. When I called my sorority Sister, Myrlys, to share the unfortunate news, I asked her to be "in charge of the spreadsheet" to help me manage all the support we both knew was inevitable. She did not hesitate. 
"Organization is my middle name. I spent several days trying to determine the best options for keeping track of Shannon's needs and then I found Give InKind, and it was perfect for doing the majority of the coordinating for Shannon's support," said Myrlys. 
When Myrlys presented this site to me, I had not yet processed its capabilities but knew this would be an amazing "shared spreadsheet"!
After my double mastectomy, Give InKind's platform has been a life saver — especially during the pandemic. This platform has allowed my village to support my journey by signing up for rides to appointments, providing meals, sending gift cards for food delivery, sending gift boxes, or purchasing items from my Amazon wish list. This site also allowed Myrlys the ability to provide me a printout of all the sign ups, gift cards, gift boxes, so I can send my thank you notes later. I loved how I could see who was coming when and what they were doing without having to log into the website. The customer support team at Give InKind have been very receptive to Myrlys' requests for assistance to help her manage all the support that was being given to me.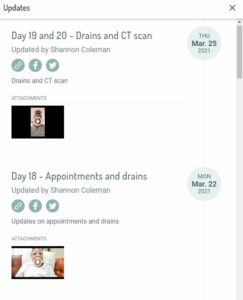 Another aspect that was very helpful to my journey and keeping Myrlys organized, is that once someone signs up through the care calendar, the website automatically sends reminders to them. That in itself can be daunting to the organizer as well as the person who needs the support. That was a huge responsibility that was taken off Myrlys plate as she continued to coordinate other tasks to support me. 
The reality is that a cancer diagnosis comes with a stigma: death. I was very excited that the site allowed me to post video updates to literally show my village that I was very much alive. To have the website send a notification to all my followers every time I posted an update was a bonus! The video posts allowed me to show my journey in real time, and help limit phone calls and texts so I could focus on healing and recovering. This site has been a godsend for both myself and Myrlys. This helped her to manage the overwhelming outpouring of support and make sure that my needs were met. I'm very thankful for this site and the support that Give InKind has provided as well. A cancer diagnosis is not a one and done; it's a journey. I'm very fortunate that Give InKind is a part of my journey.
– Shannon
See how to create a Give InKind Support Page for someone diagnosed with breast cancer here.
---
Give InKind does not provide medical advice, diagnosis, or treatment. We have an affiliate relationship with many of the advertisers on our site, and may receive a commission from any products purchased from links in this article. See Terms & Conditions.