---
On Sunday, March 14, we will "Spring Forward" and move our clocks ahead an hour.  Babies and toddlers may be affected by this change more than you would think. Here are a few tips from certified Gentle Sleep Coach, Meredith Kinney, to help ease the transition.  
First, plan ahead. Make sure your child is getting adequate naps the week before the time change. This way they will be well-rested, and better able to adjust to the change ahead. We always say sleep begets sleep; the more sleep your baby gets, the better they will be at sleeping.  
Second, on the day of the time change, be prepared for your child's bedtime to feel earlier, possibly interrupting your daily routine of dinner or after dinner family time. 
Third, take your child outside first thing in the morning. Getting some sunlight will help the baby's internal clock to adjust.  (and yours as well!)
There are two methods for dealing with the time change.  
The first method is the Do Nothing Method. Act like it is a normal day. For most families, this is the easiest thing to do. However, be aware that your baby has now lost an hour of sleep. Watch their sleep cues for the day, and be aware that they may indeed be a little "off". Put them to bed at their regular time, say 7PM, but remember this was 6PM yesterday. With this do nothing method, it may take a few days for their sleep to regulate, and their meals and naps to adjust as well. 
The second method is the Gradually Adjust Method. This method is for children who are a little more alert, and less likely to self-adjust to a change in their schedule.  In this instance, the new 7PM (which was 6PM yesterday) may be too early for them to go to sleep. You can split the difference for a few days, putting them to bed at 7:30 and slowly making the bedtime earlier in the upcoming days. Also, try to be as consistent as possible with their feeding and nap schedules during these days.    
The most important thing to remember is to watch your child during these first few days. Try to read their sleepy cues, and respond accordingly. Every child is different, and some may take longer than others to adjust to this new time.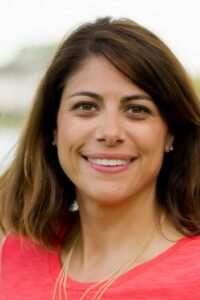 About the Expert: Meredith Kinney is the mother of two boys and lives in Hainesport, NJ. Meredith discovered the Gentle Sleep Coaching Program through a friend and thought it was a great way to help fellow moms, and stay connected to her community.  The Gentle Sleep Coach Program, developed by Kim West LCSW-C, is the first and most extensive professional sleep coach training and certification program available. The program involves over 80 hours of training with a faculty panel that includes 2 medical doctors, a psychologist, an attorney, lactation counselor, postpartum doulas, and a family therapist.
Meredith offers free, no obligation, 15 minute phone consultations which you
can book through her website Well Rested Family. She also provides tips and tricks on her Facebook and Instagram pages.
---
Give InKind does not provide medical advice, diagnosis, or treatment. We have an affiliate relationship with many of the advertisers on our site, and may receive a commission from any products purchased from links in this article. See Terms & Conditions.