---
Give InKind is honored to feature Melissa Monroe.
One of the things that I feared the most when my daughter Alice died unexpectedly was that I would forget things about her, and that others would forget her as well.  This is a common fear among bereaved parents, and one that can be alleviated by simply acknowledging the pain and loss they are experiencing.   The Compassionate Friends, a National organization that supports families after a child dies, suggests that some of the best ways you can support  a grieving parent are:
You can encourage them to talk by asking simple questions such as "Do you feel comfortable talking to me about it?"
Mention the name of the child who has died. Some people fear that bringing up the child will increase the parent's pain, but the opposite is generally true.
Share fond memories of the child. This is generally reassuring to the parent.
Reach out to the family on, or near, important days such as the child's birthday and death anniversaries.
I was, and still am, fortunate to have been the recipient of so much support following the loss of my daughter, and it has made all the difference, I believe. Some of the most beautiful of acts of support that I received were beautiful ways of memorializing my daughter.  This not only eased my fears that she would be forgotten, but provided me with a way of learning to accept support, which is critical to healing.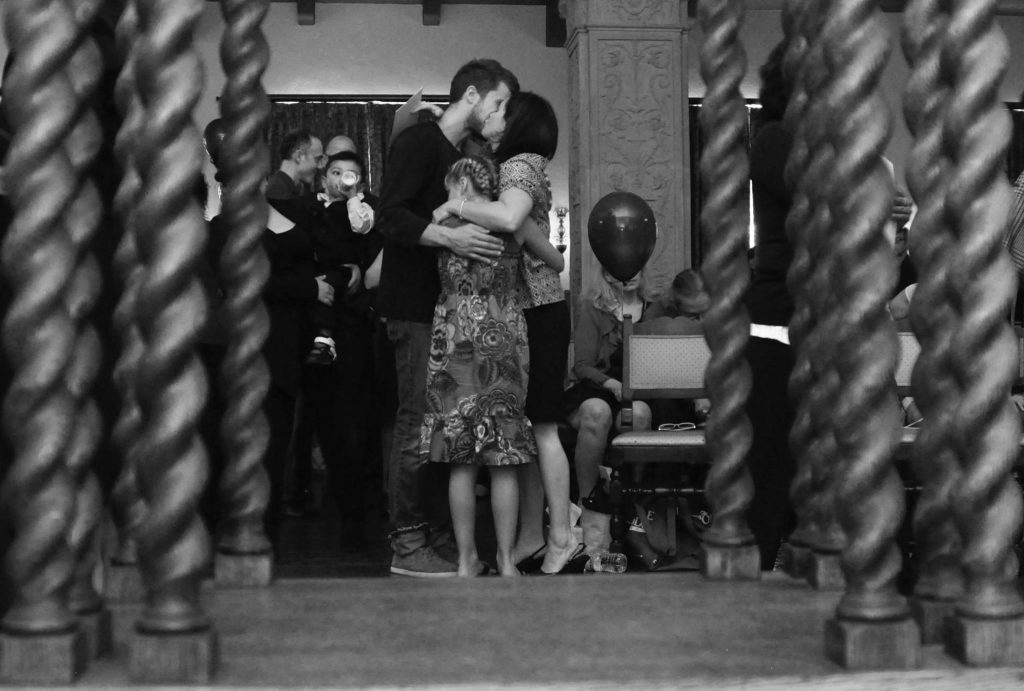 For instance, more than one friend sent me a "Miss Alice" bare root rose bush from David Austin Roses, and another friend sent the "Grace" bush for my living daughter.  Tending to the bushes gives me a way to channel the energy I wish I could spend nurturing Alice, and I have the joy of seeing and smelling the blooms year after year.
Another friend commissioned inspirational artist Tashina Suzuki to paint a portrait of my darling Alice.  This was a truly special gift, by a truly special artist, that can remain in my family forever.  It arrived just a few weeks after Alice died, and provided my living daughter a way to honor her sister:  she loved it so much, she insisted that it go in her playroom, so that she could "still play with Alice."
Another friend came to my house with ritual candles she made, poetry she wrote, and conducted a beautiful, meaningful, ceremony for me, wishing me the ability to forever access the memories of my girl. Another friend came by with beautiful candles that she made, and simply sat with me while we spoke of Alice, and life, and death.
Other friends supported me by supporting the activities and events I undertake in order to keep the memory of my daughter alive.  Because I found verbalizing the story of my daughter's death incredibly exhausting, I started a blog.  Not only does writing a blog help me feel like I am keeping her memory alive, it provides a healthy outlet for my grief, and my friends report that it helps them better understand my state of mind so that they know how to better support me. Simply knowing that they care enough to read my writings, helps me more than I can say.
Other friends have supported me in honoring my daughter by supporting an annual benefit concert that I produce in my daughter's name every year on her birthday weekend.  I wanted to celebrate her life while helping others, so I host this concert, and donate the proceeds to the Southern California Counseling Center, a sliding-scale facility in my area.   It enables them to train more therapists, and, therefore, help more people struggling through trauma and grief.  There are so many ways people support this concert:  volunteering time, talents, venue, and equipment; attending the concert; donating goods to the silent auction; donating money for band travel or directly to the Center in Alice's name; donating food to feed the bands and volunteers, etc.   All of it helps me to celebrate her life with a party that benefits others, and this is incredibly meaningful and important to me.
There are so many ways you can beautifully honor the memory of your loved one, or help your friend by assisting them in the business of honoring their beloved.   You simply have to listen to the needs of the bereaved and assist them in creating something that keeps their loved one's memory alive.
There is no gift more precious to a grieving family than the gift of remembrance.
---
Give InKind does not provide medical advice, diagnosis, or treatment. We have an affiliate relationship with many of the advertisers on our site, and may receive a commission from any products purchased from links in this article. See Terms & Conditions.