---
Meal times can be especially tough for someone who is going through a divorce, especially if large family meals were a regular ritual at home.
If you know someone going through a difficult divorce, show your support by sending along a delicious, nourishing, and comforting meal for one.
(Yes, healthy comfort food does exist and these loaded sweet potatoes prove my point!)
Between the sweet potato, beans, kale, mushrooms, and fresh herbs, this dish is packed with healthy, nutrient-dense plant foods.  These ingredients offer up lots of color and flavor along with healthy carbohydrates, plant-based protein, and nourishing fats for long-lasting energy.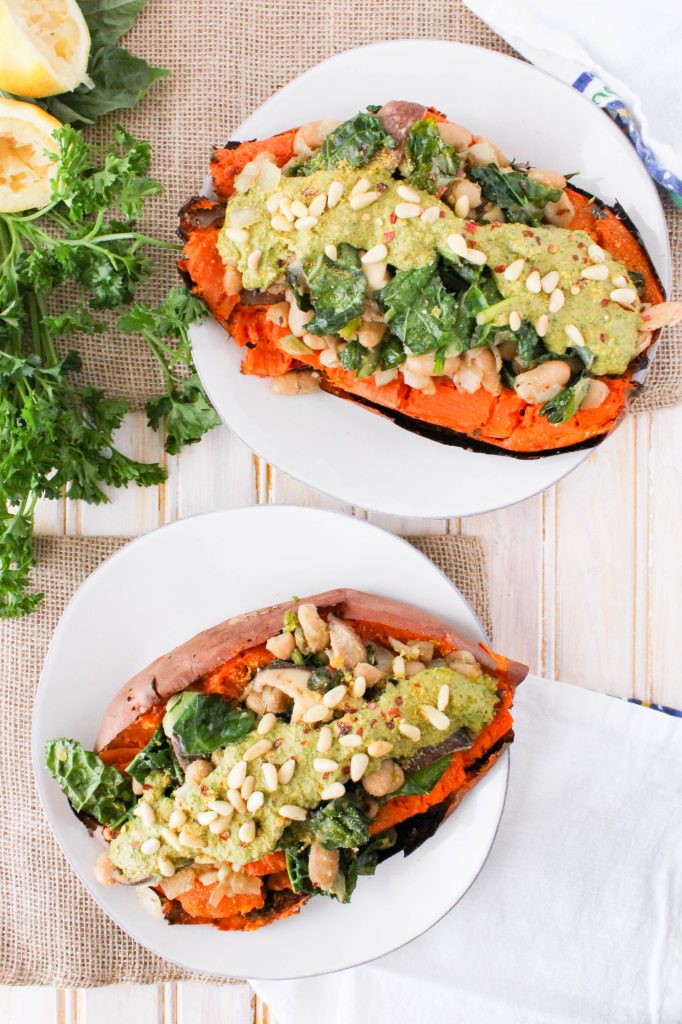 These loaded sweet potatoes are also packed with fiber for optimal digestion, satiety, and detoxification support.  Plus, they also contain important micronutrients and antioxidants like beta-carotene to support overall wellness and vitality.
But most importantly, there's just something about this loaded sweet potato (and all of the warming flavors that come along with it) that just makes me feel a little bit cozier during those nights when I'm eating dinner on my own.
It's a great kid-friendly dish to keep on hand for little visitors and also a good option for someone who may not have a lot of experience with preparing nutritious meals on his or her own.  Just knowing that I have a few of these healthy loaded sweet potatoes waiting for me at home when I'm not in the mood to cook allows me to feel more at ease.
If you're batch-cooking this recipe for a friend, keep in mind that you can scale up the recipe to provide additional servings to be reheated separately later on or to serve additional people as needed.
Just reheat one sweet potato per person, heat up the filling, load up your spud, and dinner is served!
Want to freeze your roasted sweet potatoes for later?  Go for it!  Just wrap them in foil and put them in a freezer-safe bag or container for up to a few months.  (The filling and pesto sauce can also be frozen in separate containers if desired!)
Give InKind does not provide medical advice, diagnosis, or treatment. See Terms & Conditions.
Mushroom and Cannellini Loaded Sweet Potatoes with Lemon Herb Pesto
Designed to help heal a heart, mind and body – when in the throes of divorce. By Stephanie McKercher, a licensed nutritionist. Affordable and delicious.
Ingredients
1 large sweet potato, rinsed
Filling:
½ tbsp cooking oil (I used grapeseed)
1/2 sweet onion, diced
2 cloves garlic
1 cup mushrooms, chopped (I used shiitake)
½ cup cooked white kidney/cannellini beans (if canned, drain and rinse)
1 cup kale, chopped
Pesto:
¼ cup (packed) fresh basil
1/4 cup (packed) fresh parsley
2 tbsp almonds
2 tbsp nutritional yeast (or parmesan cheese)
½ lemon, zest and juice
½ tsp paprika
Crushed red pepper, salt, black pepper to taste
1-2 tbsp water
Optional toppings: pine nuts, nutritional yeast
Instructions
Preheat oven to 425º F. Pierce sweet potato a few times with a fork and then place directly on oven rack to roast. Roast until tender, about 40 minutes.
While sweet potato is roasting, prepare the filling. Heat oil over medium-high heat. Add onions and cook until translucent, about 5 minutes. Add garlic, mushrooms, and beans and cook for a couple minutes before lowering heat to low until sweet potatoes are ready. Stir in kale for last 5 minutes of cooking.
Prepare the pesto: add pesto ingredients to a blender or food processor and pulse until creamy. (Start with 1 tbsp of water and add more if needed to reach desired consistency.)
Once sweet potato is fork-tender, remove from oven and place on cutting board. Allow to cool slightly and then slice in half lengthwise. Add mushroom filling, pesto, and optional toppings as desired before serving.
---
Give InKind does not provide medical advice, diagnosis, or treatment. We have an affiliate relationship with many of the advertisers on our site, and may receive a commission from any products purchased from links in this article. See Terms & Conditions.