---
The moment you get pregnant, the flood of information begins – google searches, the barrage of social media, opinions from relatives and co-workers, and well-meaning (but sometimes unsolicited😉) advice. It makes sense – if you're a new parent, there is so much to learn about. But it can be exhausting and confusing to have information coming from every angle. 
Wouldn't it be lovely if you could have a trusted place to get information and support, where you could ask questions AND know that every product was safe for yourself and your baby? Great news: that exists!  San Francisco-based nonprofit Natural Resources nurtures families from pregnancy to early childhood.
At Natural Resources, expectant and new parents get information and support through three pillars: 
Classes and support groups. These range from very practical Childbirth Prep Classes, to more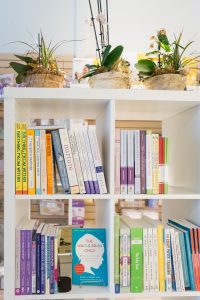 emotional preparation like Babyproofing Your Relationship, to the very popular and very San Francisco class, Preparing your Vagina For Birth. Support groups are offered for pregnant and new parents, to help navigate the dynamic changes during this special – and sometimes challenging – time. There are also classes for when baby gets older: Baby Sign Language, Baby Sleep Solutions, and Parenting through Toddler Tantrums are just some examples of the 30+ classes available. 
Effective, vetted and best-in-class products to purchase and rent – Let's be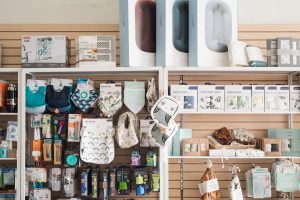 real – When it comes to your baby, you want the best! Whether you are looking for pregnancy tea, finding educational toys, getting mesh panties for after birth, giving a gift to a newly-pregnant friend, or asking a grandparent to get something special for the holidays that will keep your kiddo busy, you can know that if Natural Resources carries it, it has been vetted. You can buy knowing that it will support you and your child's optimal wellness and development. Rentals like birth tubs, breast pumps, and scales make high-quality items available at a lower price point, and aren't exactly things you need forever. It's good for the environment to rent for the time you need. 
A warm and welcoming community. Much more than just a retail store,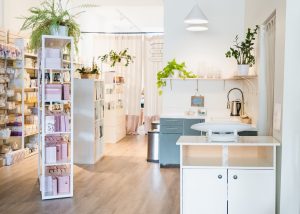 Natural Resources is a community space for new families where you can come anytime to feed and change your baby as well as hydrate and feed yourself! You can speak with a knowledgeable staff member, connect with other parents, try out a wide range of carriers, get fitted for a nursing bra, and rent various parenting resources and materials. Many parents have made life-long friends through Natural Resources. During COVID-19, 6 visitors are allowed in-store at a time. Additionally, GATHER is a new online community for members and class participants to connect virtually and set up distanced walks and gatherings.
We love that each purchase supports this wonderful nonprofit. Through COVID-19, Natural Resources has continued offering essential support, serving expectant and new parents with virtual classes, an online store, gift cards, and GATHER. 
About
Natural Resources is San Francisco's oldest pregnancy, birth, and early parenting resource center, and in 2019 received San Francisco's coveted Legacy Business designation for community-serving businesses 30+ years old. Numerous Bay Area centers that supported new parents and babies have closed, yet the need for support at the pivotal time of childbirth grows. Natural Resources is a keystone in the birth community that many families depend on and benefit from during birth and early parenting. 
A 501c3, Natural Resources serves expecting and new families of all income levels through education, empowerment, and community. While specializing in evidence-based and conscious parenting, Natural Resources ultimately prepares parents to make informed decisions that support the optimal development of their newborn and their family. The organization is extremely privileged to interact with and support parents and families during this monumental time in their lives, and when, at times, family members may feel particularly vulnerable.
Natural Resources believes in a more just and equitable future. That work starts with parenting, so Natural Resources has a wide array of social justice books for family members of all ages. They also offer a free, weekly read along focused on inclusion and diversity, We All Belong Read Along, and have hosted product drives to get nursing supplies to BIPOC new families. 
Why Nurture Families? 
Today, the United States has the highest maternal mortality rate of all developed countries and one in seven women in the U.S. experience postpartum depression including severe episodes of isolation and inadequacy. Natural Resources helps mothers and birthing people navigate the challenges of new parenthood which is vital to the well-being of new families. Users of Natural Resources say: 
"Natural Resources saved my life. I was struggling with postpartum depression and it was a safe haven for me during an incredibly difficult time;"

"Nothing else comes even close to Natural Resources. I feel so lucky to live just a twenty minute walk away;"

"Natural Resources was my lifeline out of a pretty isolating, anxiety-filled postpartum period;"

"It's (NR) been an amazing resource when my son was born and I needed support from other parents;"

"Natural Resources was a safe haven for me to learn about pregnancy, birth, doulas, midwives, breastfeeding, infant sleep, and infant CPR…What a lifesaver to have so much good stuff in one spot!"

"I was a bit hesitant to do the zoom version because I wasn't sure if it would be engaging enough for our now 3 year old. 

Erika is amazing. The energy level, silliness, and creativity she uses to keep the kids interested even via zoom is so wonderful. Our daughter has loved it so far and it's been fun for my husband and I to get back into signing, too. 

Thank you for continuing to push forward and make these classes available even during COVID times. It's something that helps us feel a bit more "normal" to get to do a class together again." – Leah K (Toddler & Preschooler Sign Langauge)

"I've never felt so comfortable, welcomed and attended to in a class before. All my questions were answered and even above and beyond what I expected. I felt more at peace than going to a hospital or talking to a doctor. I'm so thankful for these instructors and resources. I will either donate or take more classes from this experience. Thank you so much for this!" – Esther K

Britt's enthusiasm was contagious! I really liked her pacing and flow throughout the class combining soothing meditation/yoga, information session and higher energy dance segments." – Abby T

Newborn Care & Parenting– "I loved that it was basic, tangible, and interactive. Super practical stuff – just what I was looking for!" Sarah D 

Thank you for the support you provided when I was pregnant and when my toddler was little – Catherine L

I love every staff member I ever met at NR and am so thankful for the great experiences I had in your store while I was on maternity leave. THANK YOU! – Amy H

 
---
Give InKind does not provide medical advice, diagnosis, or treatment. We have an affiliate relationship with many of the advertisers on our site, and may receive a commission from any products purchased from links in this article. See Terms & Conditions.