---
Cancer Diagnosis Spurs Non-Profit to Support Others
Partnering with Give InKind to Overcome Stigma of Asking for Help
Rachel and Jon were newlyweds when they picked up and moved into a new city ready to embark on an exciting journey in life together. Their excitement soon turned to fear when Rachel heard the words "you have cancer" just a few weeks later. In her thirties, she was diagnosed with cancer of the appendix. New city, no family or friends nearby to help, they leaned on each other to get them through the most difficult times in their lives.
Seven years later, Rachel is now in remission and taking her passion to help others who are going through life-changing difficulties and make it easier.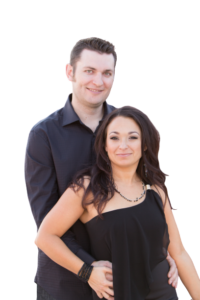 "When you hear the words, you have cancer, you can no longer focus on the basic needs of taking care of what's happening around you – cleaning the house, feeding the dogs, making sure there is dinner on the table – you become solely focused on surviving," said Rachel. "No one knows how to truly help, unless you have been through it. That's my mission now, to help others."
Rachel and Jon started the non-profit Beyond Basic Needs just this last year to bring resources to people and families who need them. "Whether it's a life-changing diagnosis or an incredible experience of joy with having a baby, we want to help our community thrive."
They found Give InKind while researching ways to connect people to the basic needs of living.
"There is a stigma in our society about asking for help. Give InKind helps us solve that problem and makes it easy," said Rachel. "Together we are going to help people from near and far find the support they need."
Beyond Basic Needs provides a volunteer network to help spread awareness that tools like Give InKind exist and to help those in need through the process of using the tools and realizing the benefits they provide.
For more information about Beyond Basic Needs, visit their website.
---
Give InKind does not provide medical advice, diagnosis, or treatment. We have an affiliate relationship with many of the advertisers on our site, and may receive a commission from any products purchased from links in this article. See Terms & Conditions.