---
Megan Martino owns La Tua Bella Beauty Bar and Rain Spa in the Hudson Valley Region of New York State. When Give InKind learned that Megan had been quietly providing microblading and other spa services to those undergoing treatment for cancer and other illnesses for years, we wanted to know more.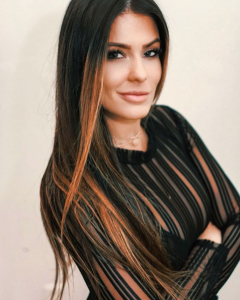 Q: What do you love about your job?
A: I believe that if you are doing what you love doing, it is more than just a job. I love talking to people. I love making people feel beautiful inside and out. I want to help people in the midst of a crisis to find and feel their beauty – even when they may feel the most defeated. Because everyone is so beautiful.
Q: What makes someone beautiful?
A: So many things make people beautiful. The things we face in our lives change us. I worked as a makeup artist while I was in college. One day when I was working a young woman came into the store. She had been badly injured when she was hit by a drunk driver. She came in looking to buy concealer to cover her scars. I sat her down and I showed her how to use it. I did a complete makeover. She cried from happiness. This showed me that this was the industry in which I could have a real impact. At that moment, I listened to what I wanted to do deep down – I left college and enrolled in cosmetology school.
Q: What is Microblading and why is it such an important service?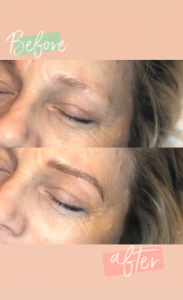 A: I realized that Microblading was a skill I could help donate to help people who were experiencing the loss of the so much. Cancer is so difficult to manage. Patients fight for their health, their sense of self. Aspects of their appearance change. To me, their beauty remains, but I know that they do not feel that way a good deal of the time. Microblading is a service I can provide that gives them something back. It is my honor to be able to help in this way. The eyes to me are so important! You really can look into someone's soul and know more than you think without even having to say a word. In the end, there are so many reasons people struggle – and lots of them come down to communication. How we talk to each other is so important. It is really only when a client is in your chair that you get a chance to learn more. People in chemotherapy often lose their eyebrows, so this is something I can do that may help. That's why I don't charge people in treatment for cancer or illnesses that cause hair loss. I think that if we are in a position to give a gift, we should just do it.
Q: Who springs to mind?
A: Microblading is useful for situation other than cancer too. In fact, my first understanding of how impactful i was, was when I met a girl who had been teased in school. It broke my heart how mean people can be. Because of the teasing, this girl would pull her brows and lashes out. I started receiving clients' word of mouth. I'm not the best at marketing, but I love the feeling of being helpful. I loved seeing how surprised these women were. Sometimes a friend would set it up in advance and pay. Sometimes I just covered it. So much of the touching associated with treatments causes pain, stress, or nausea. It's nice to have touch produce something that feels good. I love what I do.
Q: Who inspires you?
 A: My grandpa. He died of cancer and he is my inspiration and my angel. He was a huge Eagles fan and whenever I hear a song by the Eagles I know that I am exactly where I am supposed to be and that he is with me, still.
Q: Favorite Eagles quote? 
 A: Some dance to remember/some dance to forget. For me, art and music are healing. It's a song, a dance, a color, an image. You can take your mind to a place in which you are able to let go of things you cannot change and just be in a moment of happiness or remembrance of another time.
In addition, we invite you to visit the complete line of spa services offered and purchase a gift certificate for you or a lucky recipient while also helping to support a local business that remains committed to giving back even when times are uncertain.
---
Give InKind does not provide medical advice, diagnosis, or treatment. We have an affiliate relationship with many of the advertisers on our site, and may receive a commission from any products purchased from links in this article. See Terms & Conditions.