---
This flavorful vegan sweet potato hash is a pretty delicious way to shake up your morning breakfast routine and a wonderful meal to drop off for someone who isn't able to prepare healthy breakfasts on his or her own.  (You could also use this recipe to send the gift of a stress-free morning to overworked parents and/or caregivers!)
Between the sausage, bacon, and sugary pastries, choosing a healthy breakfast can be a big challenge, but with a few simple swaps, you can add nutrition (and flavor) to almost any dish.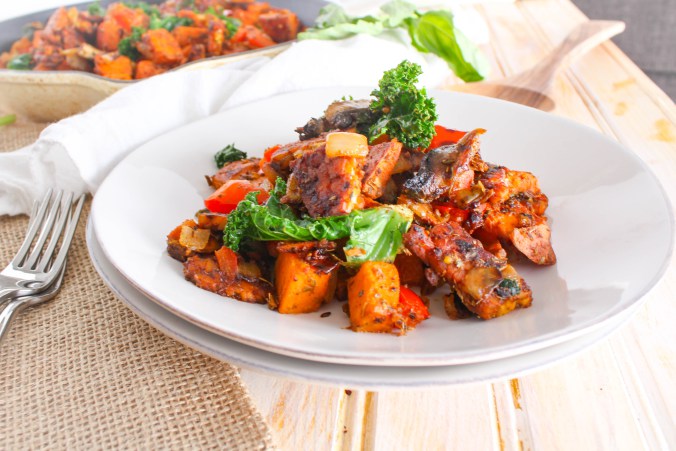 Instead of regular potatoes in this breakfast hash, for example, I opted for sweet potatoes.  They're a great source of beta-carotene, a phytonutrient that has demonstrated antioxidant properties and, when included in the diet, is associated with decreased risk for certain cancers.
Instead of regular bacon, I chose to whip up a quick and healthy homemade substitute with tempeh, or fermented soybeans.
Soybeans have been well studied for their anti-cancer benefits, especially for women with breast cancer.  This vegetarian bacon is also a great substitute for animal-based versions, which have been linked with higher risk of colorectal cancer.
Plus, this protein-packed tempeh bacon definitely isn't lacking in that smoky flavor bacon-lovers crave, thanks to spices like smoked paprika, chipotle powder, and cumin.  (And a touch of pure maple syrup to add just a little sweetness.)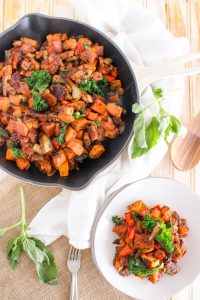 Other than the sweet potato and tempeh, all that is really needed is a nice hefty serving of fresh vegetables and herbs.  I used mushrooms, bell pepper, kale, and basil, but really, there are so many ways to recreate this healthy breakfast idea.
Feel free to use your own favorite seasonal vegetables and herbs.  Think tomatoes, asparagus, eggplant, broccoli, or brussels sprouts.  Almost any veggie will work – so get creative!
This recipe can be prepared ahead of time and reheated in a skillet or the microwave before serving.  (I prefer the skillet because the microwave will soften the tempeh bacon a bit.)  Store this dish in the fridge for up to a week or freeze if it won't be consumed until later.  (Feel free to double the batch if you'd like to eat now and freeze some for another time!)
Serves: 2-3
Give InKind does not provide medical advice, diagnosis, or treatment. See Terms & Conditions.
Spicy Tempeh Bacon Sweet Potato Hash
Breakfast Hash by Grateful Grazer Stephanie McKercher. Recipe especially well suited to those battling cancer.
Ingredients
Tempeh Bacon:
1 block tempeh, sliced into very thin strips
1 tbsp grapeseed oil
1 tbsp pure maple syrup
2 tsp smoked paprika
1 tsp chipotle powder
½ tsp cumin
Hash:
1-2 tbsp grapeseed oil
1 onion, diced
2 medium sweet potatoes, chopped
1 red bell pepper, chopped
1 portabello mushroom cap, chopped
1 tbsp dried oregano
¼ cup nutritional yeast
2 cloves garlic, minced
1 heaping cup fresh kale, chopped
¼ cup fresh basil, chopped
Instructions
Prepare the tempeh bacon. Lay tempeh slices in glass baking dish to marinate. Whisk together oil, maple syrup, paprika, chipotle, and cumin and then drizzle over tempeh. Marinate for at least 15 minutes or overnight in fridge.
Heat a large skillet over medium-high heat. Place tempeh slices on hot skillet and cook until browned, 2-3 minutes per side. (Don't add tempeh until skillet is hot!) Once cooked, remove the tempeh strips from the skillet and set aside on plate/cutting board.
Prepare the hash. Add oil, onions, and sweet potatoes to skillet, cover and cook until sweet potatoes are tender, about 12 minutes.
Roughly chop tempeh bacon strips and add them back into the skillet. Add bell pepper, mushroom, oregano, nutritional yeast, and garlic and cook for an additional 4-5 minutes. Add kale and cook until wilted 3-4 minutes. Turn off heat and stir in fresh basil before serving.
---
Give InKind does not provide medical advice, diagnosis, or treatment. We have an affiliate relationship with many of the advertisers on our site, and may receive a commission from any products purchased from links in this article. See Terms & Conditions.