---
As the situation with Coronavirus/Covid-19 continues to changes rapidly  – there is still great need for support to those diagnosed and their families. Breakthrough cases from the Delta variant have made cases surge around the country and we are seeing vast swatches of the population under advisement to self-quarantine due to possible exposure. Although vaccinated individuals are less likely to be hospitalized, we see a constant need for ongoing support as families are required to keep safe in their homes during recovery.
Here are some tips for building a Give InKind page to support someone in quarantine.
By now we all know someone who has had to endure quarantine requiring  assistance from friends, family, neighbors or other community members. To date, many Give InKind pages have been created on behalf of another person. Coronavirus/Covid-19 means that families and individuals, may, in the interest of public health, build pages for themselves. If you are building a page for someone in quarantine, consider these questions. And remember: when you create a page on Give InKind, you enable a community to step up and effectively provide the love and support a family or an individual needs.
Begin by learning exactly what your recipient needs. The specifics you can provide are what will make the page a valuable resource for everyone in their lives. Sit with them and ask a few questions:
What information do you want to share with everyone?
What kinds of items would be really helpful to you?
Do you need meals or groceries dropped off? On what days?
Do you have any allergies, or is there any food you don't like?
Do you want visitors? Texts or phone calls?
Is broadband access sufficient and is it possible to help boost access?
If the recipient is taking advantage of digital resources, do they know how best to access these resources? Do they need technical assistance via Skype or Zoom?
Create A Page

Choose this option to create your Give  InKind page. Click CREATE A PAGE to get started. Select the situation that is most relevant. If you're creating a page for someone who needs to be quarantined for the Coronavirus, select the box labeled "Medical" and select "Coronavirus" and any other circumstances that may apply.
Build Your Page
With the recipient's information in hand, it's time to create a page, give it a name, and write a paragraph or two describing the situation.
The versatility of the Give InKind page is what sets it apart. Use the many functions and options available to customize the page and give supporters as much help as possible for making their choices.
Make sure to indicate preferences for communication by enabling the tabs. Are phone calls ok? Are texts preferred, or even encouraged (the answer is most likely, yes, if they're in quarantine)? These are important details. Don't forget to personalize the page by adding a picture of the recipient and customize the section behind the photo by changing the color, adding additional photos, etc.
Here are a few other things you can do to make the page as helpful as possible:
Tell Their Story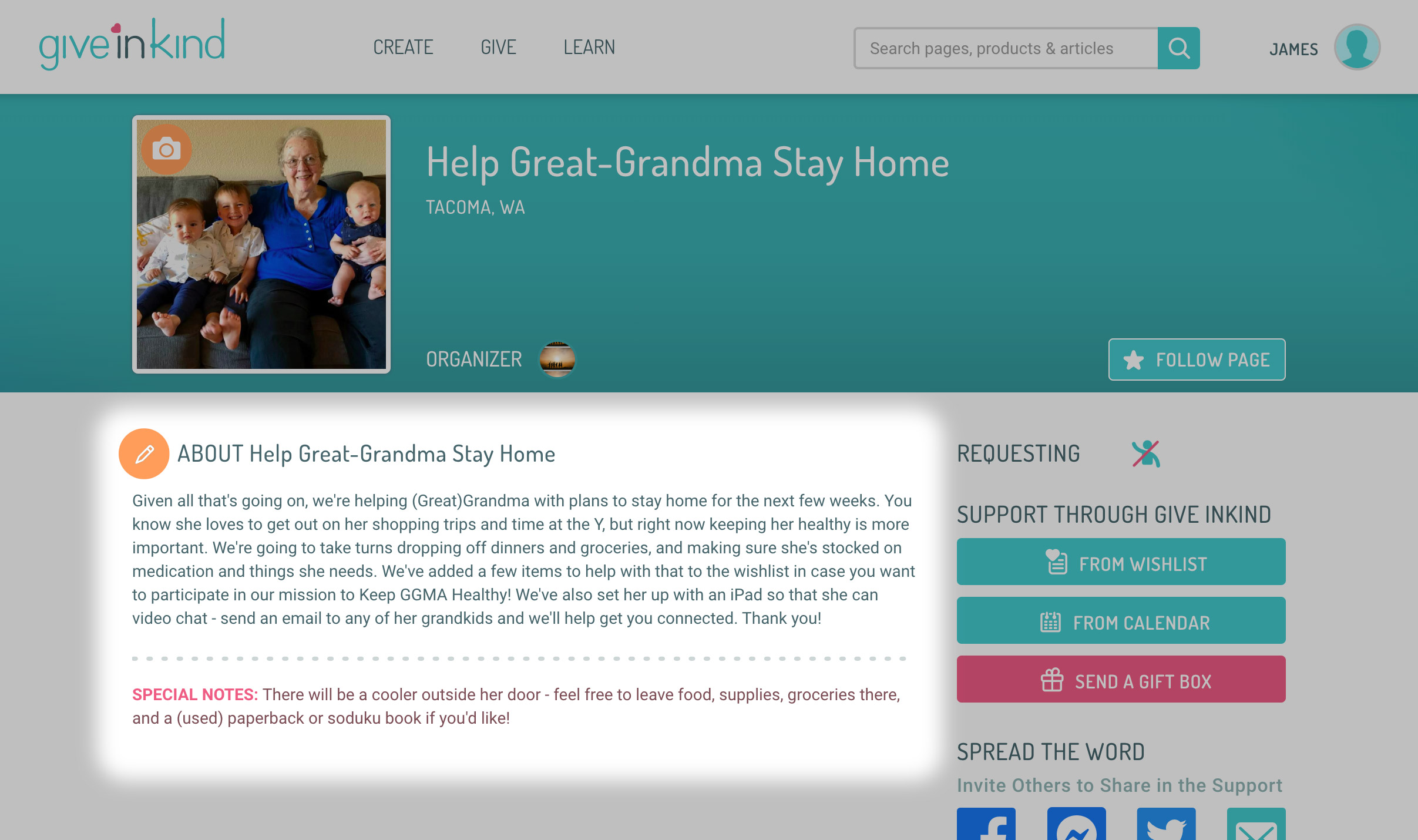 When you build your page, the first thing you can do after naming it and setting your preferences is to write the recipient's situation or a story in the description.
Share as much or as little as they are comfortable with, but help them understand that this will connect them with their supporters and relieve them of having to re-tell their story. Share details that will let people know the kind of help that is needed. If someone is delivering meals, groceries, or medical supplies to someone in quarantine make sure to tell the giver exactly where to leave the items because there will be no visitors. If your recipient is not as tech-savvy as you are remind them that you can help familiarize them with these never-more-useful than now platforms. Go ahead and remind that inputting credit card information is safe, especially if the browser bar reads "https"- s stands for secure.
Note that there is a box that can be checked that turns on the privacy features so that the page cannot be shared beyond a group of people your recipient want. When this box is checked, the link can be shared by email, but the page will not appear on public search engine results or on the pages visible to Give InKind visitors on the platform itself.
Create a Care Calendar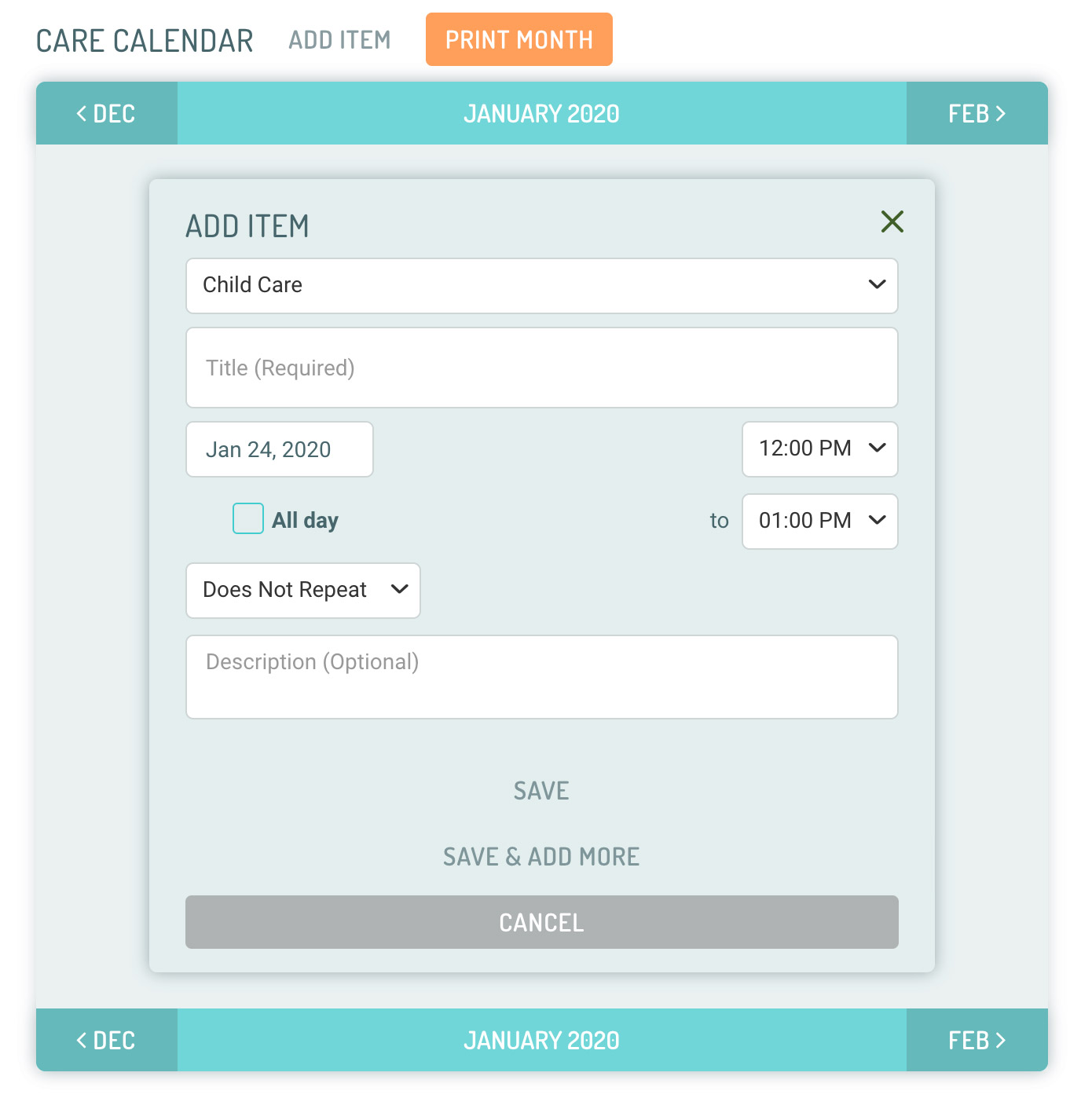 Take the time to explore the multiple custom features contained in the calendar dropdown menu. This enables the creation of a care calendar that allows for multiple people to cover multiple situations – delivering homework, for example, from numerous classrooms – all of this can be accomplished. Think of the calendar as similar to your Google calendar – but with each item with the option to be claimed individually.
The calendar allows you to create events such as meal needs, errand running, or whatever is needed in fields that include "other" and allow descriptors for all items. Add details like food allergies, how to get access to the recipient's apartment building, or anything else people need to know. When they sign up to help, they will know just what to do and they can even add their own details. Those who sign up will receive email reminders.
Build a Wishlist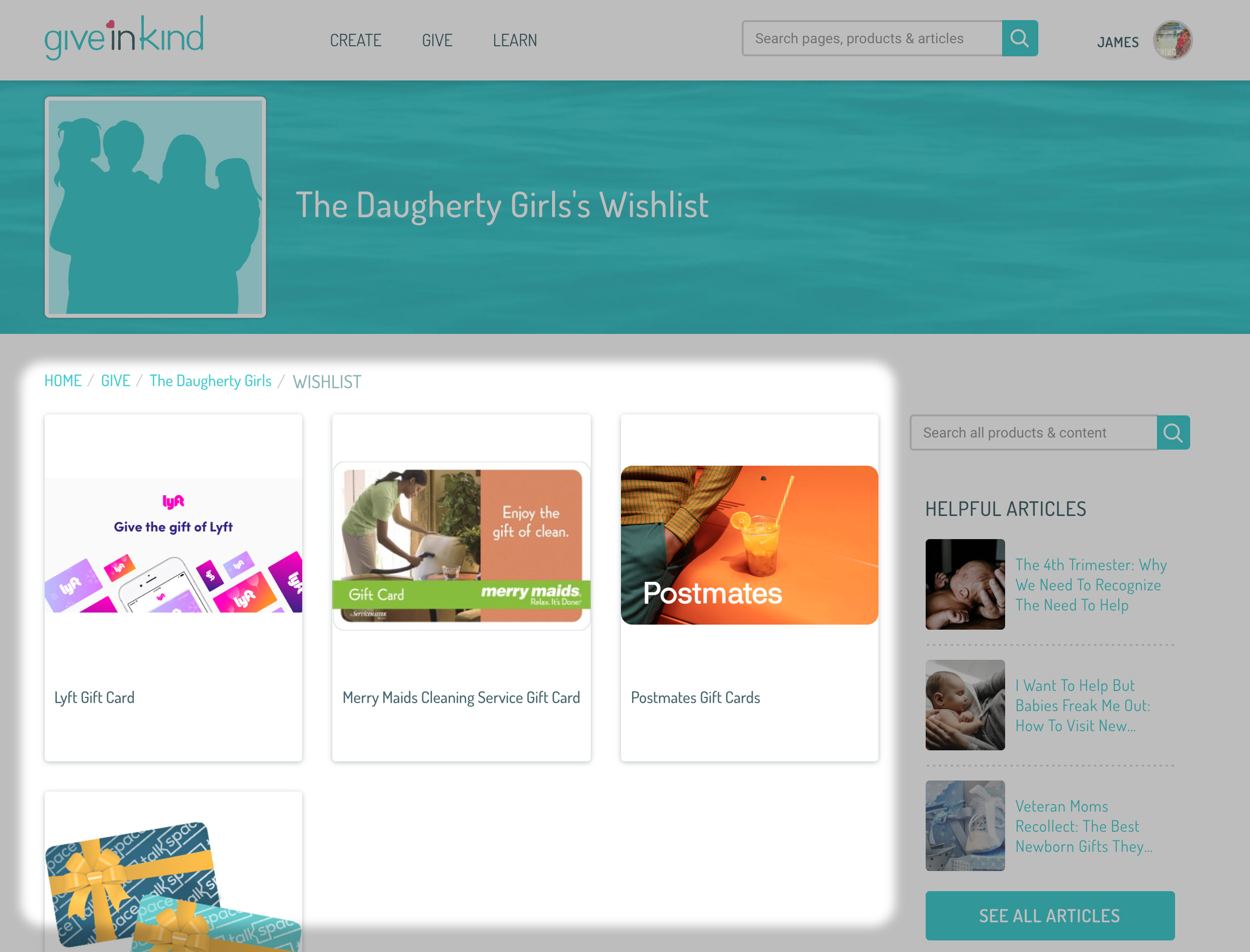 Understandably, most people don't know what to do when confronted with a situation with which they are unfamiliar. Finding situationally appropriate products is deeply appreciated especially if the situation is likely to last a while. Use the items in the Give InKind marketplace to build their Wishlist and may offset some of the cost of not being able to work.
Link Your Crowdfunding Campaigns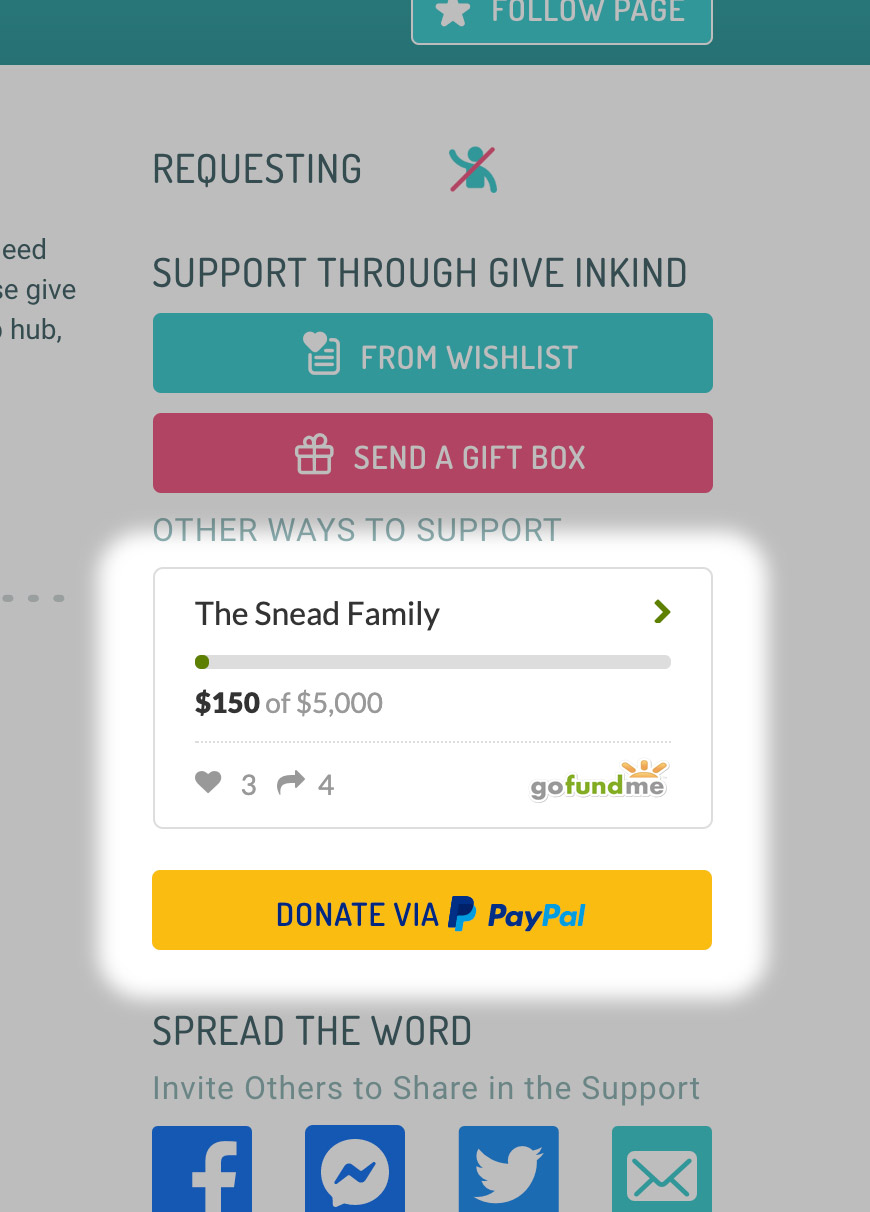 For many people dealing with tough circumstances (especially uncertain employment), financial challenges can be great. If you or your recipient have created a GoFundme or PayPal donation account, you can easily place links to those accounts on the page. Just copy the existing crowdfunding link into the Give InKind page link and it will appear as an option to those hoping to give effective assistance. Give InKind takes no fees from these donations, though you want to be sure you are aware of any fees imposed by those sites.
When you finish building your page, send the link to friends, family, and maybe a few colleagues. Soon, the recipient will begin receiving messages and support.
Keep Supporters Updated
As the recipient's situation evolves, go back to the page description and provide periodic updates. They may not need the same kind of help a month from now as they need today, and people feel closer to those they care about when they know what's happening. An up-to-date page can be a great resource for the people in their life.
Please let us know what questions you have. If you discover products you find useful, please send them our way. We strive to simplify complicated times.
---
Give InKind does not provide medical advice, diagnosis, or treatment. We have an affiliate relationship with many of the advertisers on our site, and may receive a commission from any products purchased from links in this article. See Terms & Conditions.