---
Give InKind is honored to feature Sharagim Kemp, M.D. 
The United States (and the world) have been plunged into a Coronavirus pandemic in the last months and weeks. Indeed, the public health implications as a result of the Covid-19/Coronavirus have changed the way we live. It is, however, important to be deliberate in planning a measured and proportional community-based response with a priority on those most vulnerable to becoming the sickest from the virus (remember, the vast majority of cases result in mild or manageable cold or flu-like symptoms). Preliminary data reveals that the elderly and those with a pre-existing medical condition (diabetes, cardiovascular issues, asthma) are at heightened risk for comparatively severe symptoms and possible complications from Covid-19.
In an effort to flatten the curve of transmission so that hospitals are not overwhelmed with a high volume of the very sick at the very same time, it is necessary for everyone to stay home (practice social distancing). This is the most effective tool in our collective arsenal to slow the rate of infection. This is the best way to protect all those most vulnerable.
Public health protocol requires self-quarantine for anyone who fears actual exposure and social distancing from home for everyone else. This is not, in and of itself, a reason for panic as much as it is an opportunity to be a good friend, family member, or neighbor. It's the right thing to do and it slows the spread of the virus.
If you are socially distancing but you know an older or an at-risk person, you can still check-in. In social distancing, you can go to the store (wash hands, maintain a six-foot space between you and others). Try to minimize the number of trips you make. But asking what another person needs and delivering these items is fine.  Do make sure to maintain a contactless delivery. Identify those near and dear to you (or reach out to a local community organization to offer help to those who don't have anyone) and make sure that there is a systematic delivery of essential items for drop off at their residence. Setting up a Give InKind page is a great way to coordinate efforts for a loved one that you'd like to keep close to home. Set a schedule for a meal and grocery drop-offs or pharmacy runs. Offer to place Amazon or Postmates orders as needed. Leaving items with a loving note on the doorstep helps keep everyone healthy.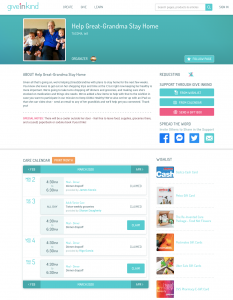 Some other tips you might consider:
Ensure that your elderly recipient has ample fresh water and a measured liter bottle as it is important to drink water and track their input for a myriad of health reasons, including boosting immunity.
Make sure that prepared meals are compliant with any existing dietary restrictions. Many prepared foods are high in sodium which can impact kidney and heart function. If you are concerned about your ability to safely cook for someone with a health issue, consider a specialized service like Magic Kitchen which delivers prepared food for all sorts of restrictions.
In addition, make sure that all medicines are dispensed in plenty of time, and remind your recipient (or an in-house helper/spouse who is also quarantined) to sort the medication in a pillbox. Even medications that tend to be re-filled monthly can receive three-month supplies with doctor approval.
Other important basic items are things like acetaminophen, stool softeners, antacids, and hearing aid batteries. These are some of the primary discomforts of our older citizens, which is not always understood and many sufferers do not feel comfortable asking for help.
Make sure to print all instructions in large type.
Make sure to include easy-to-use cleaning products so that surfaces in the home can be kept as clean as possible.
Touch base on other medical supplies as some health concerns lead to symptoms that need managing. For example, diabetes often means lots of wound care with gauze and bandages.
This is an opportunity to model the behavior parents want to see in their children – a demonstrated care for their elders and a step up to provide help. Children who are concerned about Covid-19 can be assured that there are many helpers present working to keep them safe, and that by taking regular stay-healthy precautions (washing hands with soap, staying home when sick), we should be able to stay healthy. Teaching people to galvanize around a threat to public health while taking reasonable steps to keep ourselves safe serves our communities and makes us all better human beings.
---
Give InKind does not provide medical advice, diagnosis, or treatment. We have an affiliate relationship with many of the advertisers on our site, and may receive a commission from any products purchased from links in this article. See Terms & Conditions.