---
For companies and teams wishing to make a major impact in their communities, we'd love to introduce the Give InKind Gift Card Giving Drive.
With all the power of an InKind Page, you can drive support from your team into the community in a meaningful and tangible way. Additionally, with Give InKind for Groups and Teams, you can even facilitate multiple giving drives in one convenient location.
Starting Your Gift Card Giving Drive
It's easy; takes just five minutes!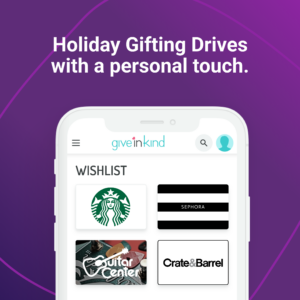 First, create your InKind Page,  and start building your Wishlist (if you're unsure, see our recommended list of products by Situation to see what gift cards are most helpful to your recipients). Over 200 gift cards are available for direct delivery, including the Care Card. We deliver the Care Card electronically as a gift link that grants the recipient access to choose whichever gift card they want.
If you are helping to build an InKind Page, begin by considering broad categories of support. Similarly, what circumstances do those you are helping face? Additionally, consider how specific gift cards can be deployed as tools to help with these needs. 
Here are a few examples of how gift cards may help those you support:
One of the biggest benefits of a gift card train is that you can help connect a community to the exact needs of those you support through your organization.
Additionally it allows people to show their support from anywhere. You're sure to find the perfect means of support from the 200+ gift cards on Give InKind.
If your organization wants to create a team giving drive, create an InKind Page today to get started.
---
Give InKind does not provide medical advice, diagnosis, or treatment. We have an affiliate relationship with many of the advertisers on our site, and may receive a commission from any products purchased from links in this article. See Terms & Conditions.