---
A strong and speedy recovery from surgery is hugely dependent on adequate nutrition.  Luckily, you can nurse your loved one back to health in a way that is both nourishing and delicious – chocolate shakes!
I love so many things about this shake for someone who is recovering from surgery.
It contains healthy carbohydrates (mostly from the banana) to energize and prevent post-surgery fatigue, a common complaint from many undergoing recovery.
Chocolate also provides important fat calories that also provide energy and help support a strong immune system after surgery.
This shake is also a rich source of micronutrients and plant-based antioxidants that assist with healing and free radical protection.  (The fat and fluids in this chocolate shake help us absorb these micronutrients!)
The real secret weapon in this fresh mint chocolate shake is the tofu.  (Make sure you use the soft or silken type to avoid unappetizing chunks!)  Tofu doesn't add much flavor but it really packs a punch when it comes to nutrition.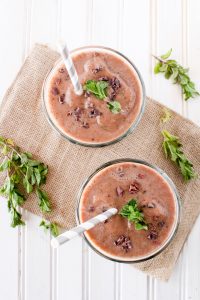 Tofu is a complete protein, meaning it contains each of the essential amino acids that we rely on for wound healing and tissue regeneration.  Protein also helps maintain lean muscle mass and is especially important when we are healing and not able to exercise as much as usual.
I also love this shake because it aligns with most post-surgery dietary restrictions.
Especially when a surgical procedure involves the gastrointestinal system, physicians often recommend a liquid or soft food diet post-surgery.  This restriction can be difficult to stick with, but having a delicious chocolate shake on hand makes it that much easier!
Shakes and smoothies tend to taste best when they are prepared fresh, but even if you're not available to make shakes around the clock, you can still help out your loved one by doing some of the preparation in advance.
My favorite way to prepare smoothies ahead of time is to add all of the ingredients (before blending) to storage bags or containers.  Then, I just put the bags in the freezer until they're ready to be used.  To serve, just dump the contents into a blender, turn it on, transfer to a glass, and enjoy!
Alternatively, you can also fully prepare the smoothies in advance and then store them in the fridge.  They can be served immediately for ultimate convenience, but I like to transfer the smoothie back into the blender with a few ice cubes and pulse a few times before serving.  (Fully prepared smoothies are best enjoyed within 1-2 days.)
I love the fresh mint flavor in this chocolate shake but please feel free to omit or opt for another delicious flavor option.  (Try vanilla bean, coconut, coffee, or raspberries!)
Fresh Mint Chocolate Shake
This is a healthy and refreshing shake for people recovering from surgery. This recipe was developed by Stephanie McKercher of the Grateful Grazer.
Ingredients
1 frozen banana
½ tbsp cacao powder
1 tbsp fresh mint leaves
¾ cup unsweetened soy milk (or milk of choice)
¼ cup soft tofu or protein powder of choice
Optional toppings: additional mint leaves, cacao nibs
Instructions
Add all ingredients except toppings to blender and blend until smooth. Add additional milk or ice if needed to reach desired consistency. Transfer to a glass and enjoy.
Reference
Rosenbloom, C.  Eating for Strength and Recovery.  Academy of Nutrition and Dietetics website.  January 07, 2015.
---
Give InKind does not provide medical advice, diagnosis, or treatment. We have an affiliate relationship with many of the advertisers on our site, and may receive a commission from any products purchased from links in this article. See Terms & Conditions.