---
Participating in a meal train is a great way to join a community support effort.
The Basics of Participating and Our Favorite Meal Train Food Ideas
One of the most thoughtful ways to show support to a friend or loved one going through a challenging time is by participating in a meal train. A meal train is a coordinated effort where friends, family, and community members take turns preparing and delivering meals to the individual or family in need.
The idea behind a meal train is simple. Providing nourishing and comforting meals can alleviate some of the burdens and stress during difficult times. When welcoming a new baby, recovering from an illness or surgery, grieving a loss, or facing any other challenging circumstance, a well-organized meal train makes a significant difference in the recipient's life.
Participating in a meal train ensures that the recipient receives nutritious and delicious meals, and it also offers emotional support and shows that they are cared for and not alone in their journey. It brings people together, creating a sense of community and compassion that can be incredibly uplifting for both the giver and the receiver.
In the next sections, we will explore some of our favorite meal train food ideas, designed to provide inspiration for those who want to participate and contribute with meaningful and tasty dishes. But whether you're a seasoned cook or a kitchen novice, there's something for everyone to make a meaningful impact through the gift of food. Let's dive into our delicious suggestions and make every meal train a heartwarming and nourishing experience.
Our Favorite Meal Train Food Ideas
There are many ways you can provide a meal for a meal train. With time, skills, and resources, you can create homemade dishes to hand-deliver. For an easy, fun, and customizable meal choice, prepare "Do It Yourself" meal options where you provide the ready ingredients and everyone customizes their own dish. Bring a night out, in by organizing delivery of local restaurant favorites. For the ultimate freedom of choice, you can also send gift cards
Homemade Classics
Easy-to-transport options are key here.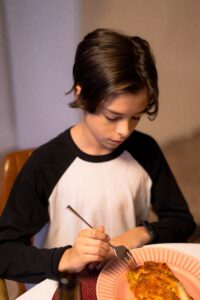 Lasagna with garlic bread and side salad.
Calzones or Stromboli.
Big Caesar Salad.
Easy D.I.Y. Meals
Taco Bar
Providing prepared ingredients for a taco bar allows everyone to get what they like. Offer corn and flour tortillas, or even spinach or sun-dried tomato. Include at least one meat option if the family does eat meat. Add variety with beans, and toppings like diced onions, tomatoes, cilantro, shredded cheese, and lime wedges. A selection of mild and spicy salsas will allow everyone to flavor their meal without going overboard on spice level.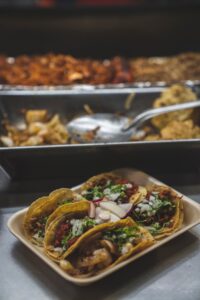 Pasta Bar
Prepare at least one type of pasta. Heat a variety of sauces for diners to choose from. Include any proteins like grilled chicken, or perhaps a ground beef meat sauce. Cheeses like parmesan and asiago go well grated over a pasta dish. For those with simpler tastes, offer simple butter and salt for their pasta, or olive oil.
Nacho Bar
Nachos are best when heated-to-order. Start with your favorite tortilla chips. Include a lot of grated cheese. Prepare some protein like taco meat, carnitas, roasted chicken, or refried beans. Roasted corn, avocado, or homemade guacamole also elevate nachos. Spice lovers will appreciate a side of sliced jalapeños. A variety of salsas ranging from mild to spicy for everyone to dip their nachos in.
Diners can assemble the nachos to their liking on small baking sheets or oven-safe plates. Placing the nachos under a broiler for just a few moments melts the cheese perfectly.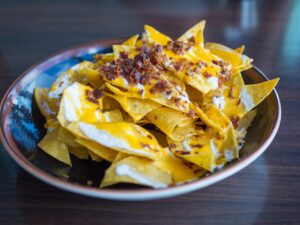 Baked Potato Bar
The star of the baked potato bar is obviously the potato. Use an instant pot or standard oven to prepare 1 1/2 baked potatoes per person. Where the fun comes in this dish is all of the toppings. Most of them are available prepared from the store, so your prep time can be focused on the potatoes themselves. People like all kinds of toppings on their baked potato. You can't go wrong with the classics. Sour cream, chives or green onions, and bacon slices or crumbles.
Unconventional toppings include chili, pulled pork, pot roast, and even steamed broccoli.
Breakfast Buffet
Provide a variety of breakfast favorites for a continental breakfast buffet. You can bake pastries on your own or purchase from a local bakery or store. Prepare or purchase pre-cut a variety of fresh fruits. Plain or vanilla yogurt can be customized with fruits and crunchy toppings. Granola can be eaten as a cereal or yogurt topping. Bagels and crumpets toast really well and are delicious with cream cheese or butter. A selection of jams and jellies can also be spread on toast or mixed in yogurt.
Don't forget beverages. Fresh hot or cold brewed coffee or tea, milks, and juices are classics.

Local Restaurant Favorites
Bring your loved one's favorite night out to their doorstep with a delivery from their favorite local restaurant. A thoughtful gesture that also saves you the time and energy of cooking for them on your own. Restaurants that offer delivery allow you to schedule directly with them. When the restaurant is available from a local delivery service, like UberEats or DoorDash, coordinate contactless delivery through those apps. There are restaurants that offer takeout, but do not offer any type of delivery. For those, order takeout that you can pickup and deliver personally.
The Freedom of Choice: Gift Cards
Gift cards provide the ultimate freedom of choice. Your loved one decides exactly what they want, when they want it, and you still take care of the bill. Consider what is best for your loved one. A delivery service like UberEats or DoorDash provides a wide range of local options. If you know their favorite restaurant, buy a gift card directly from them. For the ultimate flexibility, a Visa gift card is accepted anywhere credit cards are accepted.
These are our favorite meal train food ideas.
With Give InKind, your meal train is supported from every angle. InKind Page Organizers easily manage everyone's support. Supporters easily navigate the Care Calendar, Wishlist, and Fundraising options to give what works best for them. Recipients of your meal train support are treated to meals, gifts, and gift cards while we handle the details. Get started with your InKind Page to make the most of your meal train today.
---
Give InKind does not provide medical advice, diagnosis, or treatment. We have an affiliate relationship with many of the advertisers on our site, and may receive a commission from any products purchased from links in this article. See Terms & Conditions.