---
Dear beautiful you looking to celebrate the rainbow pregnancy of someone you love. What a kind person you are. What a loving gesture. Let this serve as a cheat sheet for your memorable event.
A rainbow baby is a baby born following a previous loss (miscarriage, stillbirth/infant death). While a rainbow pregnancy is certainly cause for joy, the question of outright celebration may be somewhat more nuanced than is generally understood. This is why.
Women pregnant again after a loss tend to experience a whole universe of emotion. There is joy. There is tangible relief. However, residual feelings of loss and longing comingle powerfully with understandable feelings of sadness and fear.
When I was pregnant again after my loss, I was profoundly grateful.  So too was I confused and frightened. And while I deeply appreciated those who genuinely rejoiced for me, I remained petrified of assumptions about good outcomes. It felt so jinx-y.
Sometimes I felt that happiness was just too close a cousin to betrayal. So when others reached too quickly for the happy ending, I was inadvertently forced to guard my grief as the vestiges of loss. It was all I had left.
One day a good friend called and asked whether she could host my shower – post birth. Tears pricked my eyes. Yes.
Here are some alternatives to traditional baby showers suitable for women pregnant again after loss.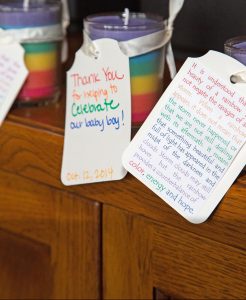 Blessing Way. A Blessing Way is a Navajo ceremony meant to honor the experience of women and birth. It is about honoring the woman's complete passage to motherhood. This can be appealing to a woman marking a rainbow pregnancy because it can incorporate birth, loss, and motherhood. Women are asked to pick a bead and say something to mark the moment – to the mother and child(ren).  Beads are then strung to make a necklace. Women in attendance may offer a gentle hand massage to the mother being celebrated. Candles are lit to set a mood, and also in memory of all that has led up to this moment. Favors to mark memory, loss and birth can be given to guests. Drinking tea and reading poems aloud to one another is a lovely option. Henna ceremonies can be incorporated.  At the end of the Blessing Way, women pass a ball of yarn around and make a connected loose loop bracelet once around their wrists – marking memory and community. The yarn is then cut and bracelets are worn until the baby is born.
A Sip-And-See. At a Sip-And-See guests come to visit the baby after s/he is born. They have tea or a sip of champagne. This can be as casual or as elegant as one likes – from self-serve bar through to champagne flutes with chocolate-dipped strawberries.  Specialty cupcakes can be ordered or made. The baby may be several months old. This provides an opportunity for a couple to invite and introduce their baby when they have had some time to process all that has happened. Requests can easily be made – for example, that children not attend.  Disinfectant hand soap may be provided as a "favor" at the door. In lieu of gifts, it might be nice to contribute to hire a professional photographer for the event to document the special occasion.
A shower after the baby is born. Some families may welcome a traditional baby shower after the birth of their baby. This may be especially appropriate for a family who never received gifts, returned them, or chose to donate items to charity after a loss. Options for hosting fun themed showers are unlimited – those in attendance would want to check for a baby registry (or see our gift recommendations for rainbow moms and babies).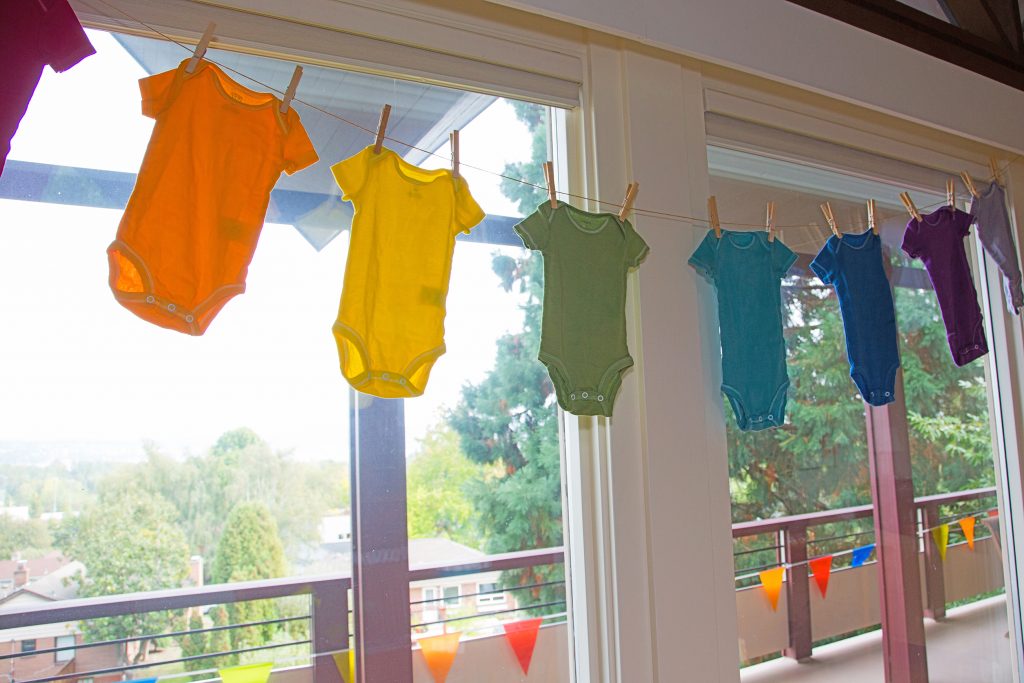 Games are fun and can be adapted for post-birth. Guests can bring books for a baby library.  Shower decorations can be typical of any other baby shower. With one critical exception –  remove all items to make reference to "to be" (i.e. Mother-to-be crowns – since your shower is taking place after a birth. But also understand that bereaved moms would consider themselves to have been mothers prior to this pregnancy, even though their baby died, and so "to-be" is possibly inadvertently nullifying.)
Do know that, in giving this gift, you are healing her?
---
Give InKind does not provide medical advice, diagnosis, or treatment. We have an affiliate relationship with many of the advertisers on our site, and may receive a commission from any products purchased from links in this article. See Terms & Conditions.