---
Life can be unpredictable and challenging, and during these times, the support of friends, family, and teammates can make a world of difference.
However, coordinating and receiving help can often be overwhelming, with well-meaning individuals bombarding you with, "How can I help?" and, "Let me know if there's anything I can do."
Wouldn't it be easier if there was a centralized platform that streamlines support and reduces stress when you're in need? Enter Give InKind, a powerful tool that transforms the way teams and communities provide support during life's ups and downs.
Fulfilling Needs, Granting Wishes: Give InKind's Toolbox
Give InKind is more than just a platform; it's a hub where you can share your story, communicate your specific needs and preferences, and allow your community to come together and provide support in the most meaningful and efficient ways possible. Here's a closer look at some of the features that make Give InKind such a game-changer:
Care Calendar: Give InKind offers a Care Calendar that allows you to schedule and organize support activities. Whether it's meals, transportation, or assistance around the house, you can easily coordinate with your community. This support can be provided in person or through the convenience of gift cards, all seamlessly managed within the calendar.
Wishlist: Share your preferred gifts and gift card options with your supporters. This feature ensures that your community can contribute in ways that align with your needs and preferences.
Fundraising: Give InKind simplifies fundraising by connecting directly to PayPal, CashApp, and Venmo accounts. You can also link a GoFundMe campaign, displaying a live campaign tracker on your InKind Page. Supporters can see your progress and make donations with just a few clicks.
Personal Updates: Keep everyone informed about your journey, developments, and news through written updates, photos, and even videos. This fosters a sense of connection and empathy among your supporters.
Messaging and Comments: Facilitate and centralize ongoing communication through messaging and commenting features. Supporters can stay engaged and connected throughout the support journey.
But here's the best part – Give InKind takes care of the nitty-gritty details, like gift card deliveries and reminder messages. Page Organizers have access to all the relevant support information, and with the Premium Upgrade, Super Organizers can effortlessly track, report, and resend gifts from the Supporters View.
Team Support Redefined: Give InKind for Groups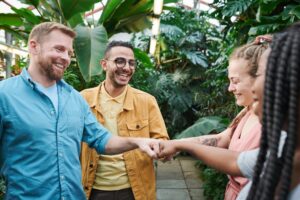 Give InKind doesn't stop at individual support pages. Give InKind for Groups provides a dedicated group page where your entire team can come together, share, and coordinate support for various situations. Whether it's a team member going through surgery, welcoming a new baby, or caring for a loved one, everyone can customize their support needs.
The group directory centralizes the unique situations within your team, making it easy to provide and receive support among teammates. This not only strengthens team bonds but also ensures that support is just a click away when it's needed most.
Measuring Impact: Give InKind's Year-End Report Card
At the end of the day, it's essential to measure the impact of your collective support. Give InKind offers annual reporting, providing insights into how much support your group has powered. This not only makes for a heartwarming end-of-year story but also serves as a tangible measure of your team's contribution to a culture of giving.
Join the Give InKind Revolution: Your Support Network Awaits
In times of need, support from your community or team can be a lifeline. Give InKind revolutionizes the way we offer and receive help, eliminating the chaos of scattered offers and providing a unified platform for assistance. Whether you're an individual seeking help or a team looking to support one another, Give InKind's features are designed to streamline the process and enhance your sense of community.
So, why wait? Join the Give InKind community today and experience the power of collective support. Together, we can make a difference in the lives of those who need it most. Contact us now for more information on how Give InKind can transform your team's support network. Let's make a positive impact together.
---
Give InKind does not provide medical advice, diagnosis, or treatment. We have an affiliate relationship with many of the advertisers on our site, and may receive a commission from any products purchased from links in this article. See Terms & Conditions.