---
People have been sending casseroles to loved ones in need for what seems like ages.
There's just something so warm and comforting about a big warm baking dish that's filled with satisfying ingredients, isn't there?
Casseroles are surely comfort food…but unfortunately, they usually aren't exactly the healthiest or lightest of food choices.
This Simple Enchilada Casserole is an exception to the rule.
Sure, it's comforting and family friendly, but it's also wholesome and filled with plenty of fiber-rich vegetables and energizing nutrition to benefit physical health too.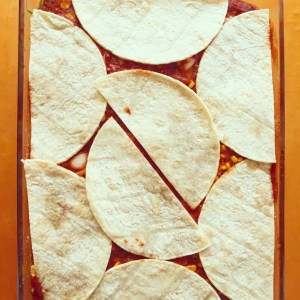 It's exactly the type of casserole I'd like to have on hand if I were grieving the loss of a sibling or other immediate family member.
This dish is completely plant-based, which means it inherently contains more beneficial antioxidant and anti-inflammatory phytonutrients than almost all traditional casserole recipes.  (These health-promoting phytonutrient compounds are found only in plant foods – vegetables, fruits, whole grains, beans and legumes, and nuts and seeds.)
Second, instead of the ground meat used in most traditional casseroles, this dish utilizes vegetarian refried beans, a rich source of plant-based protein.  In place of the liberal amounts of cheese typically used, this casserole incorporates nutritional yeast to add a cheesy flavor that also happens to be naturally dairy-free.
Both of these simple swaps help to create a meal that is a bit lighter but no less satisfying.  The fact that it also provides higher levels of fiber and beneficial micronutrients to support overall wellness is just an added bonus.
Luckily, this lightened-up casserole is still just as convenient to prepare ahead of time as its traditional counterpart.
The dish can easily be prepared to completion in advance but you can also choose to prep up to the point of baking before wrapping up the dish and presenting it to someone in need.  (Don't forget to include baking instructions with the dish!)
Give InKind does not provide medical advice, diagnosis, or treatment. See Terms & Conditions.
Simple Enchilada Casserole
A lighter take on a casserole. Perfect for someone mourning the loss of a sibling. This recipe was developed by Stephanie McKercher of The Grateful Grazer.
Ingredients
8-4" corn tortillas, cut in half
1 can enchilada sauce (canned or homemade)
1 can vegetarian refried beans
1 cup corn (fresh or frozen)
1 large tomato, diced
½ yellow onion, chopped
¾ cup nutritional yeast
1 ½ cup chopped fresh spinach
½ cup fresh cilantro
Instructions
Preheat oven to 350 degrees. Spray a 9×12 casserole pan with canola or olive oil spray. Cut tortillas in half. Pour a coating of enchilada sauce in the baking dish to coat the bottom completely. Place 2 tortillas (4 halves) on top of the enchilada sauce and start layering: 1/3 can refried beans, 1/3 cup corn, 1/6 cup onion (about 2 tablespoons), 1/3 cup chopped tomato, ¼ cup nutritional yeast, ½ cup spinach, ¼ cup enchilada sauce, 2 tortillas (4 halves) on top. Repeat layering two more times with remaining tortilla halves any additional enchilada sauce. Cover loosely with foil and bake for 45 minutes. Let rest for 10 minutes before serving. Garnish with freshly chopped cilantro and additional chopped tomato if desired.
---
Give InKind does not provide medical advice, diagnosis, or treatment. We have an affiliate relationship with many of the advertisers on our site, and may receive a commission from any products purchased from links in this article. See Terms & Conditions.