---
Give InKind is pleased to partner with the Austen Everett Foundation.
Since 2012, The Austen Everett Foundation has worked to empower, honor, and inspire kids fighting cancer through the strength and support of professional and collegiate athletic teams. Since our founding, over 1,000 kids have participated in our unique Honorary Team Captain Program (HTC), giving them the once-in-a-lifetime opportunity to benefit from the powerful support that a team environment can provide.
When our founder, Austen Everett, was in college at the University of Miami, she was a star goalkeeper with dreams of playing soccer professionally. But everything changed when Austen was diagnosed with Non-Hodgkin's Lymphoma at age 21. Austen fought cancer with the support of her teammates and began her dream of providing that same support to others battling cancer. She believed that goal-oriented sports have an undeniable power to help these kids and wanted to instill in others the strength she learned from athletics. Although Austen lost her fight in August 2012, her legacy continues through the Austen Everett Foundation. AEF is committed to providing extraordinary experiences to every kid battling cancer. We know that the strength and support from athletes, their teams, and their community can empower kids in an immeasurable way.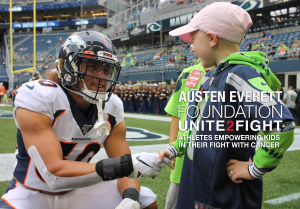 Based in 9 cities across the United States, AEF serves kids ages 2 to 22 that are currently being treated for cancer or are up to 2 years post-treatment. With over 60 professional and collegiate athletic team partners, AEF is growing more and more each year. At each Honorary Team Captain event, our Captains participate in interactive activities that are designed to give them the strength and determination they need to fight cancer. These activities include meeting the team, receiving a personalized jersey, watching warmups on the field or court, taking part in the pre-game huddle, calling the Captain's coin toss, being featured on the Jumbotron, and all-around VIP treatment.
Tessa, a Reign FC captain during their 2019 season is currently battling Leukemia and had a reprieve from treatment by spending the day with her family and favorite soccer players. Tessa's mom, Jen, commented about the Austen Everett Foundation:
"You have saved Tessa and our kids' childhoods in so many ways and even fulfilled my dream of becoming a soccer mom. This is above and beyond what we could've ever dreamed of for our kids. To be side by side with the hardest working athletes of their generation. A complete inspiration to them and us. We appreciate everything you all do behind the scenes to bring these lasting memories to kids and families."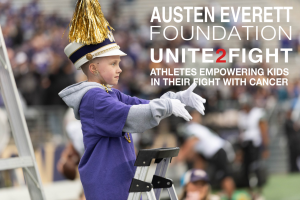 Austen's goal was to empower every kid in the United States battling cancer. She envisioned partnerships with every D1 and professional team across the nation. This will be made possible through our amazing donors, corporate partners, team partners, and kids bravely battling cancer. To empower a kid today, partner with AEF, or learn more about Austen's vision, visit www.AustenEverettFoundation.org.
Austen said it best:
"There is no struggle too great, no hardship to be avoided, no effort to be wasted, when one works to win the fight against cancer."
---
Give InKind does not provide medical advice, diagnosis, or treatment. We have an affiliate relationship with many of the advertisers on our site, and may receive a commission from any products purchased from links in this article. See Terms & Conditions.