---
Give InKind is proud to feature Lisa Shumaker, RN, BSN, Stroke Coordinator at Providence Regional Medical Center in Everett, Washington.
When you hear a loved one has had a stroke, what should you do?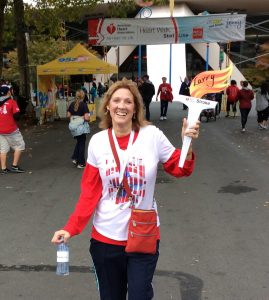 First take comfort in the fact that if they are in the hospital and that they have qualified healthcare professionals caring for them. Then set out to help the patient. Remember the patient's support team and remember that family members will be tired and worried. It's easy to feel discouraged at the onslaught of medical information and difficult to witness a loved one suddenly debilitated.
Strokes remain the leading cause of adult disability. Know that it takes time and hard work to rehabilitate after a stroke. Your support and encouragement can go a long way in lifting the spirits of both the survivor and the loved ones walking the journey with them. After the initial rehabilitation is over, a stroke support group can be of great encouragement to all parties involved.
For the Family Support Team:
Can you provide a warm, nutritious meal for them at home?
The patient will have spent long hours at the hospital or care center and when they return home, a home-cooked meal will be much appreciated. Or have a gift basket, teas, coffee, and chocolate delivered to the hospital room.
Life inside a hospital is likely to make people feel like they need to tune out. Offer support by reading to the patient or playing them music, some brief break from the tedious hospital routine. Make sure that personal electronic devices are loaded with Amazon Prime and Netflix so the patient can watch Billions or The Americans whenever they want.
More valuable information is available at the American Stroke Association, Stroke.org and Young Stroke.
For the Stroke Survivor:
Do they need help with childcare or rides to and from the hospital?
If they are recovering in a rehabilitation facility, visit them. Send notes or call them.
Talk to medical professionals about the usefulness of alternative treatments like acupuncture and medical massage. Some spas have a medical masseuse on staff, but ask about their background and qualifications. If you're advised that these treatments may be beneficial, but are not likely to be covered by most insurance plans, consider making a donation to Health Services Accounts to cover the costs of these treatments.
Find out what they're meant to be eating.  Has their diet been modified in any way? If not, send them an edible gift of their favorite treat. (But only send a small amount as this might prove overwhelming).
Note that scented lotion may not be used on an affected limb. Check with a member of their medical team about specific restrictions like this. When you have identified a lotion that is safe for use, go ahead and send it along.
---
Give InKind does not provide medical advice, diagnosis, or treatment. We have an affiliate relationship with many of the advertisers on our site, and may receive a commission from any products purchased from links in this article. See Terms & Conditions.