---
There is a distinct deficit of etiquette around infant loss.
This post is intended to help those who want to visit a bereaved mother post-labor and delivery. It explains what a newly bereaved mother may be feeling both physically and emotionally. And what you can do to help.
When members of a community learn that one of their own has experienced the loss of a baby/infant, many reach to help. This never fails to move me – how people are called to action. But how?
I learned this first-hand when my son was stillborn over a decade ago.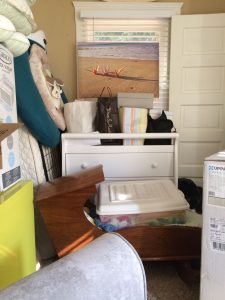 I dimly remember those early days. After I was discharged from the hospital, I came home. Grey snow-turned-to-ice made everything treacherous. My arms were bruised from multiple IVs. I was bleeding. My milk came in. Memories of my labor and delivery trembled near the surface of everything.  Still, I could not quite hold them. They had a strange, gloaming and mercurial quality to them – like a forgotten dream at waking.
On the afternoon I returned home, a friend showed up.  She took one look at me before bursting into tears. "Oh, I'm just never going to say the right thing. I just know it – but I'm gonna keep showing up."
Those who would consider visiting in person would likely place themselves as close to the bereaved. The inner circle.
This is where the deficit of etiquette becomes problematic.
One unintended result of this deficit, is that it causes people to doubt their place in the constellation of confidantes.
If your gut says you are close, you probably are.
Go with it. Perinatal loss is isolating enough without the sudden vanishing of friends.
Here are some general ground rules for visiting the newly bereaved.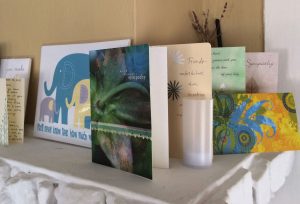 Expect to direct your effort. Do not put the burden on the bereaved. Do not say, "Let me know if you need anything."
What to say: "I am going to come and see you today at 4:00 p.m. You'll hear me knock. Open the door if you are up to it, or else I'll try again tomorrow." Leave a bottle of honey (there is a significance to honey and death in some cultures.) Or some dark chocolate. Or a card.
Expect shock and trauma to cause a dulling of affect. For a very newly bereaved mom, affect may be dull and stilted. While she may take comfort in your visit, her demeanor may not reflect this. She may appear drugged. She may be drugged. Apparent distance is not personal.
What to do: Keep showing up. Don't stay for long. If you go and she is not up to visitors, your kindness stands. Leave a note. Leave a journal. And try again.
Expect that bereaved mothers are always cold. No one tells you that grief makes you cold. Staying warm physically feels hard.
What to do: Offer to grab her a blanket from the linen closet. Bring her a really soft sweater, a pair of pajamas, or a pair of slippers.

Expect that she will be physically exhausted. A bereaved mother has labored. She will be experiencing all the physical aspects of a live birth. She will be bleeding vaginally. Her milk will be coming in. She will be sore. In addition, grief is widely reported to be exhausting.  These factors create the perfect storm – threatening physical and emotional collapse.
What to do: Bring her a care package of products too devastating for her to buy herself. Order supplies for her so that she does not need to. She will need some sanitary pads, nursing pads, and Sudafed (this can help stop lactation when she is ready). Consider Arnicare for bruising. An herbal sleep remedy such as Melatonin or tea may be useful if her doctor advises that she might benefit.
Expect that she will want to talk, but that she will do so when she is ready. It is hard for bereaved moms to stay present in a moment.
What to do: Make her a cup of tea. Meet her where she is.  Follow her lead. Your presence there is evidence of your willingness to listen. Do some dishes. Run a load of laundry.
I was terrible company during that time. I love those who came.
---
Give InKind does not provide medical advice, diagnosis, or treatment. We have an affiliate relationship with many of the advertisers on our site, and may receive a commission from any products purchased from links in this article. See Terms & Conditions.