---
Give InKind sat down with Master Sargent Retired, Troy Haley, United States Army. Over the course of a few decades, Haley has served in numerous theaters of war and conflicts, including United States military operations in Somalia and Iraq. Clearly he lives alongside the shadows of these memories, but in spite of all he has seen, or perhaps because of it, he is a gentle, soft-spoken man whose demeanor suggests a modesty and humility that is reflected in his post-retirement work with veterans and their families. One of the many jobs he has done has been to accompany surviving family members through the necessary arrangements following the death of a loved one.
When asked how friends and family could better support veterans, Haley quickly emphasized the need to categorize effective interventions into three different categories. The first concerns those military personnel who are active duty. The second are those in the reserves. The third are those redeploying into civilian life, having reached the End Term of Service (ETS) following a tour. It's essential to note that these veterans experience varying degrees of conflict, and their responses to what they've seen vary greatly on an individual level.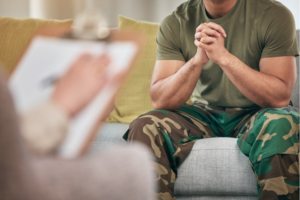 Even though conflicts overseas dominate our headlines, only 1% of the United States population actively serve. When veterans return home, they may have difficulty talking to the other 99% of the population who have not shared their experience. In general, civilians hold a perception about the military that hampers effective outreach. Haley worries that public perception regarding the "tough" military mindset impedes public understanding of the deeper psychological needs of veterans.
Says Haley:
"There is a false notion when you talk about military personnel. So one of the challenges is to humanize them. They are very real and very compassionate people. Getting beyond their 'tough exterior' can be hard."
Furthermore, the space between theaters of war and times of peace can be highly disorienting. For example, during a conflict one might see imperiled children or face long periods in a kill zone. But then board a plane to Hawaii and a few hours later, the same person might suddenly feel "safe" again. Making sense of this cognitive and emotional dissonance can be extremely challenging. Many veterans who return home suffer from a loss of a sense of purpose. Says Haley:
"There was this huge purpose. You were part of a team. It's like being a professional athlete. You get out. You are done. You are retired. There is an adrenaline that comes from being on call. When you get out there is a void. Many people struggle trying to navigate to a positive direction."
Here are ways to help Veterans with PTSD:
Give them the practical gift of your time. Permit them to tell their story. Encourage them to do so. Let them say the stuff that is hard to hear.
Think twice about what you say. Kindly offered phrases can sometimes be perceived as a bit too off-the-cuff. Instead of saying "thank you for your service," which takes on a clichéd "have a good day" quality, say something more considered. Say for example, "I don't know your experience, but I think about you and your family," or "thank you for all you have done."
Give them a means by which to appreciate life again. Anticipate any possible triggers (like Memorial Day) and ask about them about these beforehand.
Help them discover new ways of healing. Encourage them to try out activities like fly-fishing or hiking. (This of course depends wholly upon the individual's preferences.)
Encourage local business to accommodate reservists. Many don't realize the extent of the commitment reserve forces and their families take on by enlisting. The majority are mandated to undergo training over weekends, meaning that those at the start of their careers could see their employment opportunities affected by an inability to work weekends.
Support services are especially helpful. For veterans struggling with readjustment issues (including substance abuse and PTSD) ranging from the mild to severe, concerned family and friends can help them attain prompt medical attention by paying into a Health Services Account that would enable them to circumvent long waits for VA services.
---
Give InKind does not provide medical advice, diagnosis, or treatment. We have an affiliate relationship with many of the advertisers on our site, and may receive a commission from any products purchased from links in this article. See Terms & Conditions.